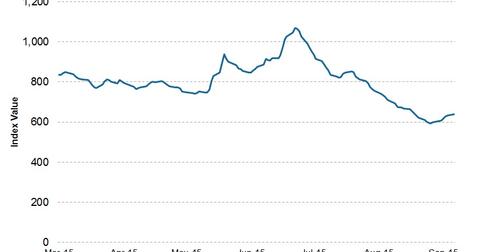 BDTI Surges and Gives New Hope to the Crude Tanker Industry
By Sue Goodridge

Updated
BDTI
Following a 28-day fall, the BDTI (Baltic Dirty Tanker Index) saw an uptick on August 28, 2015. After that, it continued its upward move until September 7, 2015. Additionally, all crude tanker stocks have been reacting positively to this upward movement in the BDTI. The index tracks shipping rates for the transportation of crude oil (DBO) on representative routes. Researchers and analysts follow this index to assess companies' revenue and earnings potential.
For the week ended September 4, 2015, Euronav (EURN) appreciated by 5%, while Teekay Tankers (TNK) and Nordic American Tanker (NAT) gained 4%, which was one of the highest weekly gains among crude tanker companies. Tsakos Energy (TNP) and DHT Holdings (DHT) saw their stock prices rise by 2%.
Article continues below advertisement
Tanker rates
BDTI on September 7, 2015, climbed to 640 points from 598 on August 28, 2015. According to the Weber weekly tanker report, the VLCC (very large crude carrier) rate on a time charter equivalent basis of the benchmark route spiked from $25,065 per day on August 28 to $44,517 on September 4, 2015. However, the average Suezmax rates fell from $28,504 per day to $24,157 per day for the same period.
Why did tanker rates rise?
There has been a rebound in spot chartering activity in West Africa. The demand for short-term oil storage has increased demand for crude tankers, especially for VLCCs. Reports confirm three units are on such time charters for storage purpose. Additionally, three more units are on talks for such activities. This storage comes ahead of a mini contango situation. Asian refineries are extending their refinery maintenance program. Tankers have been holding crude before they offload oil into refineries.
The downward pressure in Suezmax markets continued due to limited demand. According to the Weber weekly report, Suezmax should experience modest demand growth in the upcoming week. Last week, Saudi Arabia cut its monthly oil selling price to the US and Europe and for most grades sold in Asia. This may further increase tanker demand, which will support tanker rates.