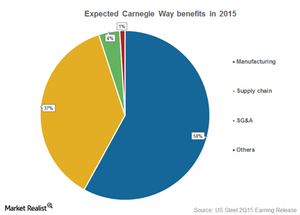 U.S. Steel Generates Substantial Cost Savings under Carnegie Way
By Mohit Oberoi, CFA

Updated
U.S. Steel realizes substantial cost savings
U.S. Steel Corporation (X) plans to generate ~$590 million in financial benefits under its Carnegie Way program in 2015. This was highlighted by U.S. Steel in its 2Q15 conference call. In this part, we'll discuss some of the initiatives that U.S. Steel is taking under the program.
Article continues below advertisement
Moving to electric arc furnaces
Currently, U.S. Steel produces steel using traditional BFs (blast furnaces). A BF has high set-up costs compared to an EAF (electric arc furnace). As the fixed costs associated with BFs are higher, they severely affect steel company profits during downturns. The reasoning is pretty simple. When production falls, fixed costs are divided among fewer units. This increases the per-unit production cost.
U.S. Steel is investing $230 million in constructing an EAF at its facility in Fairfield Works, Alabama. The construction is expected to be completed by 3Q 2016. EAFs will provide U.S. Steel with operational flexibility, since it's much easier to adjust production levels with an EAF.
When capacity use rates are down, as they are currently, steelmakers using blast furnaces see their profitability affected. Another persuading argument in favor of EAFs is that steel companies using EAFs to produce steel generally don't see huge profit swings either. Nucor (NUE) and Steel Dynamics (STLD) use EAFs to produce steel.
Together, Steel Dynamics and Reliance Steel & Aluminum (RS) form ~10.8% of the SPDR S&P Metals and Mining ETF (XME).
Supply chain improvements
Improvement in the supply chain is an important focus area for U.S. Steel under the Carnegie Way program. The firm expects more than one-third of total Carnegie Way savings to come from better supply chain management. This can be seen in the chart above. In the next part, we'll explore how U.S. Steel is changing its supply chain policies.