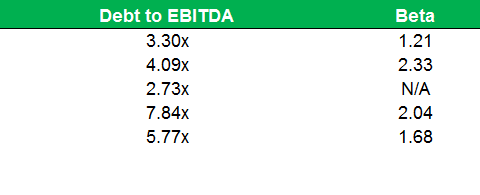 Factors to Consider When Investing in Crude Tankers
By Santiago Solari

Updated
Betting on crude tankers is not for the faint of heart
Crude tanker operators are exposed to a great deal of variability in both earnings and cash flow, even more than their counterparts in the transportation sector. These tanker operators include Teekay Tankers (TNK), Nordic American Tankers (NAT), Tsakos Energy Navigation (TNP), Navios Maritime Midstream Partners (NAP), and Scorpio Tankers (STNG).
The transportation sector is inherently cyclical. It outperforms the market during periods of economic expansion and underperforms during economic contractions. Crude oil tankers show greater variability in their performance due to the nature of their business and hence have high betas. In other words, they tend to experience greater demand when a crude oil contango exists and considerably lesser demand when the spread between crude futures and spot prices narrows below the break-even level. That level is somewhere between $6 and $7 for one-year contracts.
Due to the capital-intensive nature of the tanker business, crude tankers tend to have high debt levels on their balance sheets. Since leverage is a double-edged sword, during lean times when contango narrows, it's likely to result in value destruction.
Article continues below advertisement
Investors seeking to gain exposure to the transportation sector and the shipping industry can look into ETFs such as the iShares Transportation Average ETF (IYT) and the Guggenheim Shipping ETF (SEA). An ETF such as the SPDR S&P 500 ETF (SPY) is more suitable for investors who are seeking to replicate market returns.
The technical side
Technical analysis is highly effective in exploiting short-term opportunities. A holistic approach is to make use of both technical and fundamental indicators in order to make profitable trades and to be successful at active investing.
The relative strength indicator (or RSI) is a useful technical indicator that measures the momentum of a stock's price. An RSI above 70 is indicative of an overbought condition. An RSI below 30 is considered an oversold condition. When RSI falls below 50 from above 50, it indicates a likely downtrend in prices.
As you can see in the above graph, crude tankers except NAT and NAP appear to be in the oversold territory. They potentially could experience upward corrections to their prices in the short term.