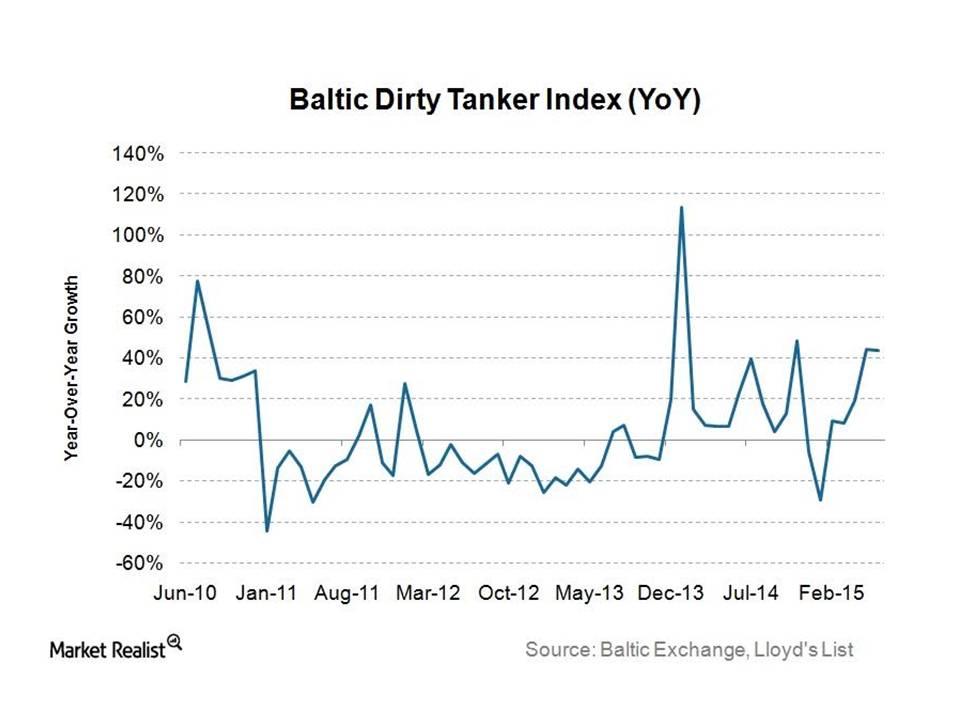 Tanker Rates Exhibit a Counter-Seasonal Trend
By Sue Goodridge

Sep. 24 2019, Updated 8:24 a.m. ET
Baltic Dirty Tanker Index
In June, the BDTI (Baltic Dirty Tanker Index) ranged from 846 to 1,054. The index tracks shipping rates for the transportation of unrefined oil on representative routes. Researchers and analysts follow the BDTI to assess crude tanker companies' revenue and earnings potential. The performance of this index on a YoY (year-over-year) basis is an important factor. Investor can use the index when evaluating companies like Frontline (FRO), Nordic American Tanker (NAT), Teekay Tankers (TNK), Euronav (EURN), DHT Holdings (DHT), and Tsakos Energy Navigation (TNP).
Article continues below advertisement
Tanker rates
For June, the BDTI recorded 43% growth on a YoY basis. It was at 1,025. Normally, the tanker rates slowdown in the second quarter. This year, the rates have been on a counter-seasonal trend. The spot tanker rates are more than double the rates last year. Companies that have more vessels operating in the spot market benefit more from this situation. Nordic American Tanker operates 100% of its fleet in the spot market.
According to Athenian Shipbrokers, VLCCs' (very large crude carriers) rates for June 2015 were $61,300 per day—compared to $25,000 per day in the same month last year. Similarly, Suezmax and Aframax rates have doubled and tripled in the past year. In June 2o14, the rates for Suezmax and Aframax vessels were $30,315 and $15,200 per day. The rates rose to $60,750 and $58,000 per day in 2015.
Strong tanker demand
The tanker demand has remained headstrong. It's reaching new heights. Global events are supporting the crude tanker industry. In spite of low oil prices (DBO), OPEC (Organization of the Petroleum Exporting Countries) and the US have record high oil productions. Oil prices have stayed between $62 and $65 per barrel in June 2015. This encourages countries to import more oil. China continued to stockpile crude oil. Also, the implied oil demand has spiked. This raised the demand for crude oil. All of these factors pushed the tanker demand. We'll discuss these factors in more detail throughout this series.