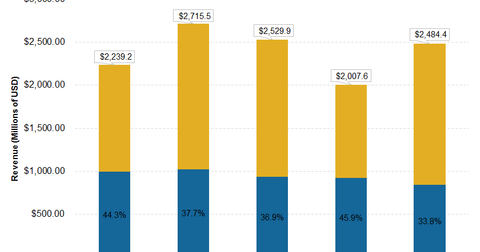 SunEdison's Semiconductor Business: Segment Profitability Analysis
By Saania Malik

Updated
Revenue contribution
For the past five years, SunEdison's Semiconductor Materials segment revenue has not seen positive year-over-year growth. Aside from 2011, when revenue rose 3.1% year-over-year, revenue has declined for the past three consecutive years. In 2012 and 2014, revenue declined as much as 9%.
Whereas SunEdison (SUNE) started off solely as a manufacturer of silicon wafers for the semiconductor industry, in 2014 the segment only accounted for 34% of net sales. In 2010, the first year after MEMC acquired SunEdison LLC, the semiconductor segment (SEMI) accounted for 44% of net sales.
Article continues below advertisement
Segment profitability
The segment has seen lagging profitability over the past few years for a number of reasons. Competition in the industry has been high and there has been a general overcapacity in the industry, leading to decreasing wafer prices. While the company has made efforts to cut costs and sell at competitive prices, other factors like polysilicon price changes also impact its ability to do so. While polysilicon prices fell consistently since 2011, they have been showing signs of bottoming out.
Taking a look at gross margin, the segment achieved just under 9% in 2012 and 2013. This number rose to 9.4% in 2014. But due to a decrease in average selling price of wafers, gross profit actually decreased from $81.7 million in 2013 to $79 million in 2014. Rapid changes in the industry and a competitive environment have a significant impact on segment profitability, which is an inherent risk for the segment.
Cost control
Marketing and administrative expenses increased 5% from 2012 to 2013 due to standalone expenses related to its IPO in 2013. But these expenses decreased almost 20% from 2013 to 2014, which shows signs of successful cost-cutting measures. The segment operating margin, however, was -9.66% in 2013 and -11.83% in 2014.
The segment is attempting to increase its capabilities in advanced substrates for innovative silicon-on-wafer (SOI) technology and to broaden its product offerings, for which it entered a credit agreement with Goldman Sachs, Citibank, and Macquarie Capital. Whereas interest expense was $0.8 million in 2013, it increased over 1000% year-over-year to $9.2 million in 2014. After accounting for this expense, the segment margin decreased further to -9.76% in 2013 and -11.94% in 2014.
It remains to be seen if the recent investments can lead to manufacturing and technological innovation that may offset a weak operating environment and strong competition.