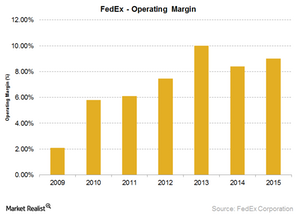 How Does FedEx Plan to Improve Its Margins?
By Ally Schmidt

Jul. 2 2015, Updated 9:05 a.m. ET
Improving operating margin
One of the key ambitious long-term financial goals for FedEx (FDX) when it launched a $1.7 billion profitability improvement effort was aimed at margin improvement. The company has aimed to improve its operating margin to 10% by 2017 from 5.8% in 2010. The company has been fairly successful in growing its operating margins to about 9% for this fiscal year—adjusted for the mark-to-market pension costs—and its operating income by about 31% in the last three quarters. As a result, its goal of 10% margins doesn't look too far away.
Article continues below advertisement
Cutting costs
The company has concentrated on cutting costs across the balance sheet and retiring off less-efficient aircraft in order to modernize its cargo fleet and improve its bottom line. FedEx offered retirement buyouts to about 3,600 employees in order to reduce costs. The company also modernized its air fleet to become more fuel-efficient and better match demand.
Recently, the company retired 15 aircraft and 21 related engines that have led to non-cash impairment charge of $246 million. In addition, the company also scheduled the retirement of another 23 aircraft and 57 engines. It expects to replace every MD-10 airplane with a Boeing 767 (BA) and save about $10 million per replacement—due to the 767's fuel efficiency and lower unit operating costs.
FedEx also bought Dutch package-delivery company TNT Express NV (TNTEY) in order to capture the growing e-commerce market in Europe. This move is expected to open gates for ground distribution in Europe.
Also, FedEx bought GENCO—a Pittsburgh-based company that's strong in warehousing and shipping returns. This move is expected to provide the company with an in-house returns processing capability that it lacked. The new addition has high-margin operation that should help boost FedEx's bottom line and make it capable of a complete product offering.
FedEx forms a 2.18% holding of the PowerShares Buyback Achievers ETF (PKW). Similar companies included in the ETF are Expeditors International (EXPD) and Allegiant Travel (ALGT) with 0.4% and 0.14% holding, respectively.