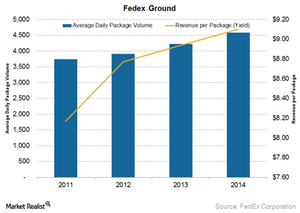 What Does the FedEx Ground Segment Do?
By Ally Schmidt

Updated
About FedEx's Ground segment 
FedEx's Ground (FDX) segment consists of the company's ground services. The services include certain day delivery service to businesses and residents across the US and Canada. It also provides high-volume, low-weight, and less time-sensitive B2C (business-to-consumer) package delivery with the help of the United States Postal Service. It includes the following entities:
FedEx Ground – It provides ground delivery of small packages to the US and Canada
FedEx SmartPost – This ground service provides delivery of high volumes of low weight, less time-sensitive B2C packages. For the last mile delivery to residences it uses the United States Postal Service and GENCO—North America's largest third-party logistics provider.
FedEx Home Delivery – This is the industry's first ground service that's dedicated to only residential services.
Article continues below advertisement
Performance overview
The FedEx Ground segment had a strong fiscal 2015. Revenue rose by 12% in fiscal 2015—compared to fiscal 2014. Most of this growth came in 4Q15, due to the inclusion of GENCO. For 4Q15, the revenue rose by 19% YoY (year-over-year). The inclusion resulted in higher ground volumes and better revenue per package.
Yields improved for 4Q15. They were driven by higher rates and higher dimensional weight charges. The average daily volume also grew by a strong 5% YoY. In contrast, FedEx SmartPost saw a fall in its average daily volume due to lower volumes from a major customer. However, its revenue per package grew due to improved customer mix and higher rates.
The operating income for fiscal 2015 rose by 11% YoY. However, for 4Q15, the operating income remained flat. The operating margin fell by 3% due to the inclusion of GENCO.
Improving economic conditions led to higher average daily volumes. It recorded a 7% three-year CAGR (compound annual growth rate) since 2011. Revenue per package has also mainly risen due to higher rates. It recorded a 4% three-year CAGR growth.
Competitive standing
According to FedEx, FedEx Ground has an ~32.5% market share in the total ground market industry.
The segment's largest rival is United Parcel Service (UPS). FedEx Ground runs 30% of the lanes faster—compared to UPS. In contrast, UPS only runs 3% of the lanes faster than FedEx.
The company's Ground segment is expected to benefit in the future from the acquisition of TNT Express. This would help strengthen the company's position in the growing market in Europe. We'll discuss acquisitions in more detail later in this series.
FedEx forms the largest holding of 13.14% in the iShares Transportation Average ETF (IYT). Other companies included in the ETF are Union Pacific (UNP), Kansas City Southern (KSU), and Norfolk Southern (NSC) with 7.4%, 6.9%, and 6.8% holdings, respectively.