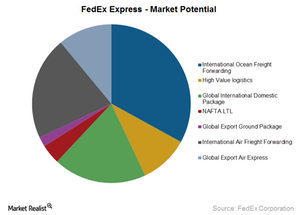 FedEx Express: Segment Undergoes Changes to Improve Profit
By Ally Schmidt

Updated
Overview
FedEx Express (FDX) provides customers with reliable and timely delivery by connecting markets that comprise more than 90% of the world's GDP (gross domestic product). The segment has an unmatched air transportation network and infrastructure paired with leading-edge information technologies. The Express segment successfully ships more than 4 million shipments each business day.
Article continues below advertisement
Performance review
The Express segment has been undergoing many changes under the company's "Profit Improvement Initiatives" such as streamlining staff function and processes, air fleet modernization, international profit improvement, and yield management. During 4Q15—ending May 31, 2015—the segment retired 15 aircraft and 21 related engines. It has set the retirement schedule for another 23 aircraft and 57 engines. This has led to $276 million in impairment and related charges for the segment. The inclusion of newer planes will lower the maintenance and repair costs in the future and boost the segment's operating performance.
Apart from the restructuring activities, the unfavorable currency exchange rates and lower fuel surcharges offset the positive impact of volume growth and base yield for 4Q15. As a result, the segment saw a 4% fall in its revenue in 4Q15—compared to 4Q14. For full-year 2015, the revenue remained flat. However, domestic volume growth and the benefit from profit improvement program initiatives helped improve the operating results.
The adjusted profit for 4Q15 rose by 12% YoY (year-over-year). For full-year 2015, the operating income grew by 11%. The segment also benefited from lower pension expense, a voluntary employee severance program, and lower maintenance expenses.
Average daily volumes have improved continuously due to the improved economic climate in the world since 2011. They recorded a 1.13% three-year CAGR (compound annual growth rate). Revenue per package has also risen continuously. It recorded a 1.5% three-year CAGR growth.
In the future, the ongoing profit improvement programs and adding new, reliable, fuel-efficient, and technologically advanced aircraft should help the segment manage costs better, push revenue, and improve margins.
FedEx forms a 2.18% holding of the PowerShares Buyback Achievers ETF (PKW). Other companies included in the ETF are Boeing (BA), General Dynamics (GD), and Northrop Grumman (NOC) with 4.4%, 2%, and 1.43% holdings, respectively.