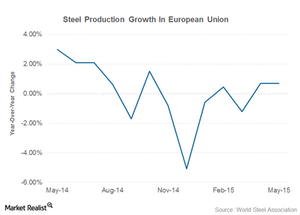 Have Anti-Dumping Measures Helped the European Steel Industry?
By Mohit Oberoi, CFA

Jun. 26 2015, Updated 9:06 a.m. ET
European steel industry
In the previous parts, we analyzed the Eurozone's steel demand indicators. In this part of the series, we'll explore the May steel production data for the Eurozone. The Eurozone is the second largest steel producing region after China. According to the World Steel Association, steel demand in the Eurozone is expected to rise 2.1% this year and 2.8% in 2016. This would be the second highest growth rate among major steel-consuming countries.
ArcelorMittal (MT) gets more than half its revenues from the Eurozone. U.S. Steel (X) also has significant operations in the Eurozone. These companies would benefit from an uptick in European (VGK) (FEZ) steel demand.
Article continues below advertisement
Steel production increases in May
The above graph shows the year-over-year growth in European steel industry production. In May, production increased 0.7% and reached 15.08 million metric tons. Steel production increased 0.69% in April. However, in the first five months of 2015, steel production in the Eurozone is almost flat compared to last year.
Anti-dumping duties
The Eurozone has taken the lead in filling trade cases against cheap imports. In March, it imposed anti-dumping duties for six months against imports of stainless steel products from countries like China and Taiwan.
The Eurozone has also imposed duties against imports of electrical grade steel products. This move is expected to negatively hit AK Steel (AKS), one of the major producers of electrical grade steel products. The Eurozone has also opened an inquiry against rebar imports from China.
It's important to keep in mind that there are impending risks for the Eurozone, including the Greek crisis. Investors should keep a close eye on how the Greek situation evolves over the next few weeks.
In the next part, we'll take a close look at the global steel production data.