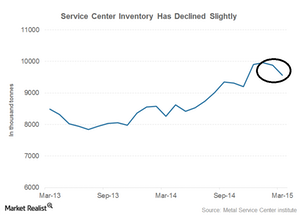 Steel Inventories in US Service Centers Decline Slightly in March
March service center inventories
Steel inventories at the US metal service centers stood at 9.55 million tonnes in March. Metal service centers acquire primary metals like carbon steel and aluminum from metal producers and process them to customer specifications. Reliance Steel and Aluminum (RS) is the largest service center in North America. Commercial Metals Company (CMC) also operates a metal service center along with its steel production business. CMC currently forms 3.68% of the SPDR S&P Metals and Mining ETF (XME).
Article continues below advertisement
As per estimates, service centers account for more than a quarter of total steel consumption in the US. This makes them an important distribution channel for steel companies like US Steel (X) and Companhia Siderurgica Nacional (SID). Therefore, analysts closely analyze the service center inventory report.
Inventories decline
The previous chart shows the trend in metal service center inventories. Inventories peaked at 9.9 million tonnes in December 2014. They have registered a decline in all months of the current year. March steel inventories declined 3.2% as compared to February. However, as compared to last year, steel inventories are still much higher.
Higher imports
Last year, steel inventories surged as service centers placed orders for low priced foreign steel products. However, steel prices in the US have now dropped to global levels. Metal service centers could do some stocking to take advantage of lower steel prices in the US.
Higher demand from service centers would be positive for the US steel industry. Investors should closely track the service center inventory data in the coming months.
Another indicator that investors should track is Chinese steel imports. In the next part, we'll discuss how Chinese steel imports played out in March.