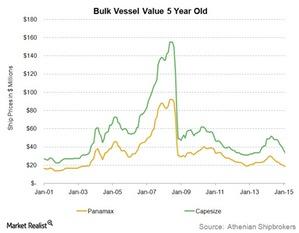 Secondhand Vessel Prices Approach 15-Year Lows
By Katie Dale

Updated
Newbuilds versus secondhand vessel values
Secondhand vessels are generally delivered faster than newbuilds and so reflect medium- to short-term fundamentals. Secondhand prices tend to be more responsive to changes in current rates as well, because they're more responsive to industry turnarounds than newbuilds. In contrast, buyers and sellers of newbuilds have to wait two years or more for delivery, which means newbuild data indicate longer-term fundamentals.
Article continues below advertisement
Secondhand vessel values
Like the cost of newbuilds, secondhand vessel prices are also on the slide. According to Athenian Shipbrokers, vessel values for five- and ten-year old Capesize respectively dropped to $33.1 million and $21.2 million in February 2015. In January 2015, five-year old Capesize cost $36.1 million and ten-year olds, $25.8 million.
The value of five- and ten-year old Panamax vessels declined to $18.2 million and $13 million, respectively, down from $19.2 million and $14.1 million in the previous month.
According to Mr. Panos Tsilingiris, newbuildings and sale and purchase broker with Intermodal Research, "from a cost-based, buy-low perspective, there is currently a buying opportunity in the second-hand dry bulk market. Second-hand values are hovering close to 15-year lows, even in nominal terms, and only in the 1980s crash they were lower in current dollars. Meanwhile the second-hand to newbuilding price ratios are the lowest post-1980s."
Article continues below advertisement
Intermodal notes, "the strengthening of the volume of dry bulk second-hand deals that the market has been witnessing since the beginning of March seems to be gaining more and more momentum, with an increased number of dry bulk sales reported in the market in first week of March, while the absence of Cape deals aligns with the very weak sentiment in the segment."
Outlook and impact
According to a report published in Ship & Bunker, the Baltic and International Maritime Council said recently that "since early December 2014 conditions in the dry bulk shipping market have been 'extremely bad,' but the second quarter of 2015 may be looking up slightly."
A brighter outlook may support the performance of dry bulk shipping stocks including Diana Shipping (DSX), Knightsbridge Tankers (VLCCF), Safe Bulkers (SB), and Navios Maritime Holdings (NM), as well as the Guggenheim Shipping ETF (SEA).
The SPDR S&P Metals and Mining ETF (XME) invests in industries such as steel, coal and consumable fuels, gold, precious metals and minerals, aluminum, and diversified metals and mining.