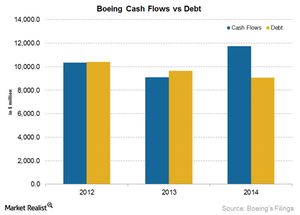 Analysis of Boeing's Financial Position
By Ally Schmidt

Apr. 9 2015, Updated 12:08 p.m. ET
Cash flows
Boeing (BA) has claimed its position as the world's largest plane maker for the third consecutive year in 2014. The company's strong financial position is a significant factor in its top industry ranking.
Boeing generated $11 million cash at the end of 2014, providing the company with liquidity and the opportunity to invest in growth areas of the business. This cash cushion also allows the company to return more cash to its investors through its various programs. Boeing repurchased 46.6 million shares in 2014.
Article continues below advertisement
Industry comparison
Boeing has a sales yield of 85%, which is well above the aerospace industry average of 58% and the industrials sector average of 56%. This indicates that the company is growing its sales as well as its earnings per share (or EPS). The sales yield measures the company's earnings for every dollar of sales. Boeing has consistently beaten consensus estimates of its EPS in the past 12 quarters, as well as revenue estimates in eight of the last ten quarters.
The company has been successful in reducing its debt levels in the recent past, reflected in its low current ratio of 1.20 and its quick ratio of 0.37. The company has maintained its operating margins at~8% for the last three years, compared with Raytheon's (RTN) 14%, General Dynamics's (GD) 13%, Lockheed Martin's (LMT) 12%, Embraer's (ERJ) 9%, and Airbus's and Finmeccanica's 5%.
Article continues below advertisement
Strong backlog
Boeing is sitting on a comfortable backlog of about $487 billion, which is more than five years of its total sales. The backlog grew at 18% for 2014, leading to production ramp-up plans to meet demand. The commercial segment ended the year with a $440 billion backlog, enough to keep the company busy into the next decade.
Boeing takes orders from airlines based on the latest models in production, as well as future models. The aircraft in these backlog orders are then manufactured and supplied over the contracted timeframe. Generally, the time span from order to delivery is more than a year.
However, if the delivery number grows too high, then deliveries are delayed. Aircraft manufacturers set an initial list price, then the airline companies negotiate to gain discounts on this price point. Airline manufacturers have lower pricing power than their buyers. These airlines include American Airlines (AAL) and United Airlines (UAL), which are included in the iShares Transportation ETF (IYT).