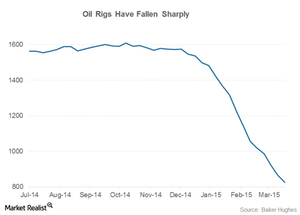 Lower Crude Oil Prices Are Behind the Layoffs at U.S. Steel
Layoffs at U.S. Steel
U.S. Steel (X) has issued notices to more than 2,000 employees of its Illinois plant under the Worker Adjustment and Retraining Notification (WARN) Act. The plant produces tubular products for the steel industry. The energy sector accounts for 10% of steel consumption in the US. The sector was buoyant, driven by shale discoveries and rising crude oil production. However, steel demand from the energy sector has been hit, as crude oil prices have fallen to multi-year lows.
Article continues below advertisement
The downturn in crude oil prices started in mid-2014, and it only intensified when the Organization of the Petroleum Exporting Exporting Countries (or OPEC) decided against reducing its daily oil production. OPEC is a group of major oil producers. The group currently counts 12 countries as its members.
Lower crude oil prices
The chart above shows the trend in oil-directed rigs in the United States. As you can see, the rig count has fallen sharply to 825 in the latest reading. This is the lowest rig count since October 2009.
Lower crude oil prices are the primary reason behind falling oil rig counts. Leading energy companies have reduced their capital expenditure targets for 2015. They would like to wait for a sustained recovery in crude oil prices before committing more capital to their business. SM Energy (SM), Conoco Philips (COP), and Chevron (CVX) are among the major energy producers in the United States that are affected by these trends.
U.S. Steel is the biggest supplier of tubular goods to energy companies in the North American market. It currently forms 3.2% of the SPDR S&P Metals and Mining ETF (XME). In the next part of this series, we'll discuss the importance of tubular products for U.S. Steel.