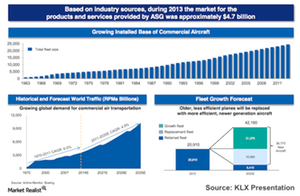 A snapshot of the KLX Aerospace Solutions Group
Farallon disclosed stake in KLX
Previously in this series, we learned that Farallon Capital disclosed a 7% stake in KLX (KLXI) in its 13G filing. KLXI started trading on NASDAQ one month after after its spin-off from parent company B/E Aerospace (BEAV). Previously in this series, we discussed BEAV, its spin-off of KLX, and a business overview of KLX. KLX operates in two segments:
Aerospace Solutions Group (or ASG)
Energy Solutions Group (or ESG)
Article continues below advertisement
Aerospace Solutions industry review
KLX's estimated 2013 market for KLX Aerospace Solutions products and services was ~$4.7 billion. It estimated that 34% of this market is served by manufacturers supplying directly to end users. Distributors like KLX Aerospace serve the remaining 66%, or $3.1 billion, of this market.
According to the company, "All aircraft must be serviced at prescribed intervals, which drives aftermarket demand for aerospace fasteners and consumable products." ASG generated 37% of its last 12 months (or LTM) revenue from aftermarket sales.
KLX Aerospace derives its revenue from:
support for commercial, business jet, and military aircraft original equipment manufacturer (or OEMs)
maintenance and replacement of specified parts
support for commercial aircraft, business jet and defense subcontractors
demand for structural modifications, cabin interior modifications, and passenger-to-freighter conversions
KLX noted, "The Airline Monitor forecasts a 2014 global passenger traffic increase of approximately 5.4% and projects long-term growth at an approximate compounded annual growth rate (or CAGR) of 5.7% during the 2013–2028 period. The International Air Transport Association (or IATA) expects global airline profits to improve to $18.0 billion in 2014, or 70% higher than 2013, marking the global airline industry's fifth consecutive year of profitability."
Article continues below advertisement
Strong new aircraft business
KLX added, "Backlogs at Airbus SAS, the aircraft manufacturing division of Airbus Group and The Boeing Company (BA) stood at record levels of approximately 5,546 and 5,237, respectively, at June 30, 2014. They have reported that they each have an approximate eight-year backlog. As a result, most industry analysts believe the outlook for new aircraft deliveries will be strong for the foreseeable future, which bodes well for KLX Aerospace."
This positive outlook for new business should benefit KLX, as well as its competitors. Among its competitors are Heico Corp. (HEI), which also designs, manufactures, and sells aerospace and defense related parts, as well as Triumph Group (TGI), which engineers, designs, and manufactures aircraft components.
Decline in defense business
KLX reported a decline in defense orders, as a result of the sequestration program by the US government. Military orders contributed 16% to aerospace solutions revenue in 2011. In 2013, defense generated 14% of its revenue.
In the next part of this series, we'll explore the industry overview of KLX's Energy Solutions Group (or ESG).