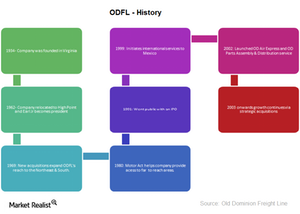 How ODFL grew to become the fifth largest trucking company
By Ally Schmidt

Feb. 6 2015, Updated 9:30 a.m. ET
Growth through acquisitions
Earl and Lillian Congdon founded Old Dominion Freight Line (ODFL) in 1934 with a single truck in Richmond, Virginia. The couple started by transporting general commodities between and around Norfolk and Newport News. After trucking regulations were implemented in 1935, the company expanded its fleet upon getting the required approvals from the Interstate Commerce Commission.
The company expanded its operations by adding a number of new routes in the late 1950s through the 1970s, under the leadership of Lillian Congdon. The company's growth was fueled by the acquisition of Bottoms-Fiske Truck Line, a furniture mover that helped the company to expand its operations to southern Virginia and throughout North Carolina. The company also added drayage services to its portfolio on the Atlantic Coast and entered other new markets through acquisitions.
The company acquired Barnes Truck Line, Nilson Motor Express, and White Transport in 1969, Star Transport in 1972, and Deaton Trucking in 1979. These acquisitions helped the company enter the full-load and flat-bed trucking market and also extend its operations to the Northeast and the South.
Article continues below advertisement
Industry deregulation
The Motor Carrier Act of 1980 brought about many changes in the industry and the company, allowing the company to now gain access to many new markets. ODFL, which specialized in LTL (less-than-truckload) transportation, started servicing points in Florida, Tennessee, California, and to Dallas and Chicago. The company opened 27 centers during the early 1980s to cater to growing demand.
The company invested in infrastructure and service improvement programs leading to a fleet of 673 tractors and 2,461 trailers that transported shipments through 47 service centers in 20 states of the nation.
Public offering
The company launched its IPO in 1991, grossing $15.6 million, which the company used primarily for debt repayment and funding a strategy of aggressive geographic expansion by acquisition of multiple companies, expansion of existing facilities, and new facility development.
The expansion spree continued aggressively up to the early 2000's with the company adding new facilities and reaching newer markets, including international markets in Mexico.
The company launched two new services in 2002: OD Air Express and OD Parts Assembly and Distribution. The Air Express is an air cargo transportation service that provides nightly schedules of service through 51 airport locations. The company's Assembly and Distribution service assembles a customer's product at any Old Dominion service center and loads it on any company's equipment for transport to a final destination. The company also implemented new technologies to support its growing business.
The company continued growing over the years with its strategic acquisitions and expansion plans into newer markets providing new services supported by new technologies.
Other companies in the trucking industry include Landstar System (LSTR), Swift Transportation (SWFT), and Werner Enterprises (WERN). Some of these companies are part of the First Trust Industrials/Producer Durables AlphaDEX Fund (FXR).