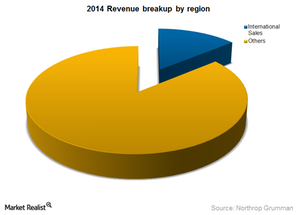 Northrop Grumman looks to international market for new business
By Ally Schmidt

Updated
Shift in revenue mix
Historically, Northrop Grumman (NOC) was a major supplier to the US armed forces. Its revenues depended heavily on the US government and its allied agencies. In recent years, the US military has undergone huge budget cuts due to sequestration, which has led to less demand from government and agencies. This has affected various companies in the defense industry, including NOC.
As a result, NOC began to concentrate on the international market, looking for customers abroad and supplying products and services to other military forces across the globe. In 2014, NOC's international sales increased by 20% to reach approximately $3 billion, or 13% of total revenues for the year. This growth was seen across all four of the company's segments.
Article continues below advertisement
International contracts won
The company also ended the year with 14% of backlog in international business. NOC won a number of international contracts including supplying four Global Hawks to the Republic of Korea. Japan selected the Global Hawk to fulfill its high-altitude ISR (intelligence, surveillance, and reconnaissance) mission, and the E-2D Advanced Hawkeye for its future advanced early warning and battle management mission.
Saudi Arabia awarded NOC a $900 million contract for training support to its Ministry of National Guard. NOC's Information Systems segment was awarded a seven-year IDIQ (indefinite delivery–indefinite quantity) contract by the UK government to develop and deliver cyber security solutions in support of data security and information assurance.
International business is important for other major defense contractors as well. It represents 17%, 13%, and 62% of revenues at Lockheed Martin (LMT), Raytheon (RTN), and United Technologies Corporation (UTX), respectively. Together these companies form ~10% of the Industrial Select Sector SPDR (XLI).
Future expectations
Northrop Grumman expects its international revenues to represent approximately 15% of sales by 2015, The company is strengthening its footprint in other markets, and anticipates that demand for its unmanned and manned aircraft, electronics, cyber solutions, sustainment, and other offerings will grow in the future.