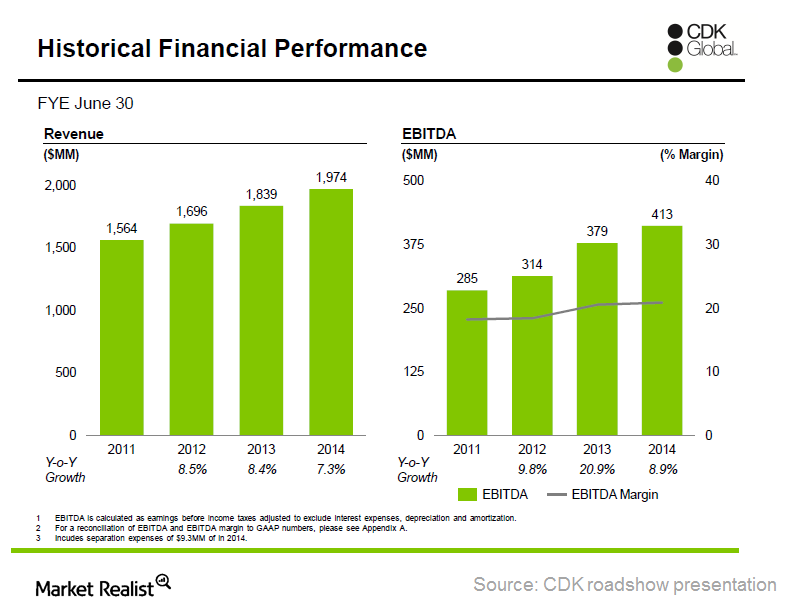 CalPERS adds new position in CDK Global
By Samantha Nielson

Feb. 16 2015, Updated 11:49 a.m. ET
CalPERS adds new position in CDK Global
CalPERS added a stake in CDK Global (CDK) that accounted for 0.03% of the pension fund's total portfolio for the quarter ending in December 2014.
Article continues below advertisement
Overview of CDK Global
CDK is a provider of integrated technology and digital marketing/advertising solutions to the automotive retail industry. It began operating as a public company on October 1, 2014, following its spin-off from Automatic Data Processing (or ADP) on September 30, 2014.
CDK's solutions automate and integrate critical workflow processes from pre-sale targeted advertising and marketing campaigns to the sale, financing, insurance, parts supply, repair, and maintenance of vehicles. The company has an increasing focus on utilizing big data analytics and predictive intelligence.
Its three reportable segments are Automotive Retail North America (or ARNA), Automotive Retail International (or ARI), and Digital Marketing (or DM).
CDK generates revenue from:
software licenses
hosting arrangements
hardware sales and rentals
support and maintenance
professional services
advertising
digital marketing
certain transactional services
In the Automotive Retail North America and Automotive Retail International segments, the company receives fees for product installation, monthly fees for software licenses, ongoing software support and maintenance of Dealer Management Systems (or DMS), and other integrated solutions that are either hosted by the company or installed on-site at the client's location.
Article continues below advertisement
Activist interest from Sachem Head Capital
In October 2014, CDK saw activist hedge fund Sachem Head Capital accumulating a 9.8% stake in the company and said it is seeking discussions with the management.
CDK lowers revenue forecast for fiscal 2015
CDK revenues grew 7% to $521.2 million for 2Q15. However, net earnings fell 19% to $42.5 million or $0.26 per share, from $52.2 million or $0.33 per share in the year-ago period. Adjusted earnings were up 36% to $59.4 million. CDK said its revenue and earnings were impacted by unfavorable foreign exchange rates. The company saw revenue growth across all three segments. DM revenues grew 17% to $105.3 million, driven by a 39% increase in Original Equipment Manufacturer or OEM advertising.
CDK said due to the impact of unfavorable foreign exchange rates, it lowered its fiscal 2015 revenue growth forecast. However, earnings growth and margin forecasts have been raised based on the results through the first six months of the year.
CalPERS holdings updates in 4Q14
The pension fund added new positions in Dorian LPG (LPG), CDK Global (CDK), Keysight Technologies (KEYS), and LM Ericsson Telephone Company (ERIC). The fund exited a stake in Medtronic Plc (MDT), Taiwan Semiconductor Manufacturing (TSM), and Equinix (EQIX). It enhanced its positions in Kinder Morgan (KMI) and Staples (SPLS).
The next part of this series will highlight the fund's position in Keysight Technologies.