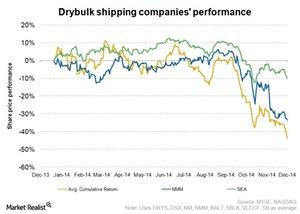 Overview and fleet portfolio of Navios Maritime Partners
By Katie Dale

Updated
Navios' industry performance
Since Navios Maritime Partners (NMM) reported its earnings, the stock has dipped 28.3%, touching its 52-week low of $9.67 on December 15. In this series, we'll analyze why the company slumped to new lows in 2014 despite recording strong revenue and an operating surplus in its latest third quarter earnings reported on October 27, 2014.
In this series, we'll take a look at the company's contracts and its spot market exposures to understand their implications for NMM stock holders.
Article continues below advertisement
Meanwhile, as compared to peers like DryShips Inc. (DRYS), Diana Shipping Inc. (DSX), Safe Bulkers Inc. (SB), and Navios Maritime Holdings Inc. (NM), who have also recorded significant declines in the past five years, Navios Maritime Partners' stock price hasn't seen declines as drastic. NM has a 2.01% holding in the Guggenheim Shipping ETF (SEA).
Navios overview
Navios Maritime Partners, formed in 2007, is engaged in the seaborne transportation services of a range of drybulk commodities, including iron ore, coal, grain, and fertilizer. Navios Holdings owns a 20% interest in Navios Partners, which includes the 2% general partner interest. Meanwhile, Navios Maritime Partners has a holding of 3.2% in the Guggenheim Shipping ETF (SEA).
NMM has a strong management with the renowned Angeliki Frangou as its chair and CEO. Her strong expertise in technical ship management and leadership in risk management supports the company in strategizing and earning higher profits.
Fleet portfolio
Navios Partners operates 32 vessels with total capacity of 3.3 million deadweight tons and an average age of 7.5 years lower than the expected industry average. Its fleet consists of 14 Panamax vessels, eight Capesize vessels, three Ultra-Handymax vessels, and seven container vessels. From time to time, the company purchases additional vessels, including vessels from Navios Holdings. All the vessels are chartered out for an average remaining charter longer than three years to highly rated customers.