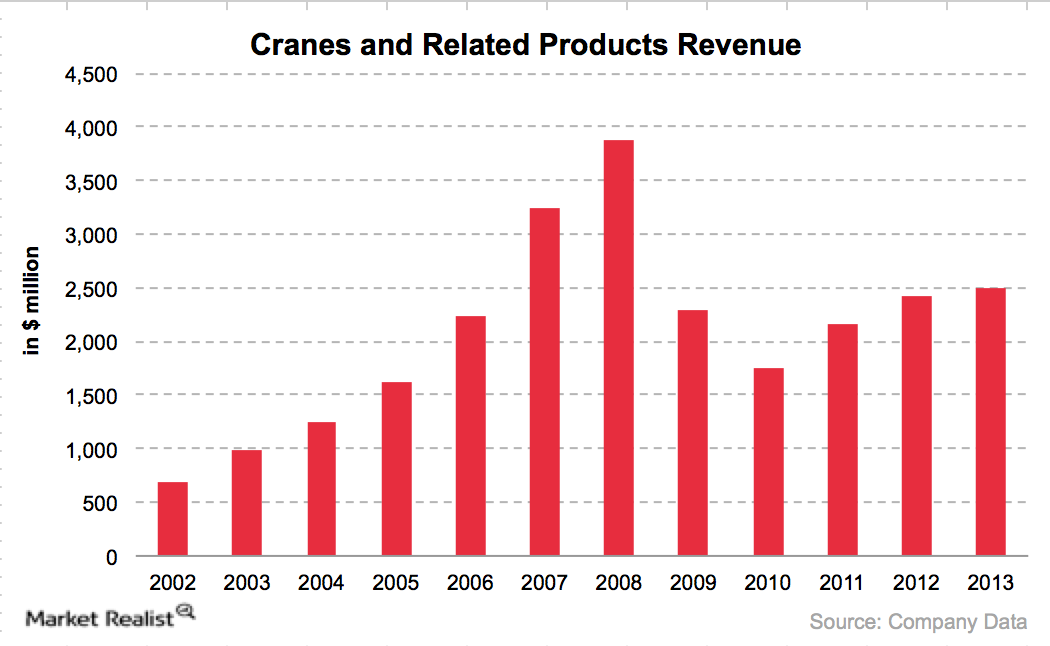 Why the outlook for Manitowoc's crane segment remains weak
By Diana Key

Jan. 6 2015, Updated 3:03 p.m. ET
Icahn goes activist on Manitowoc
Carl Icahn filed a 13D with the SEC on December 29, reporting that he acquired a 7.77% stake in Manitowoc (MTW). He is pushing the company's management and the board of directors to separate Manitowoc's crane and foodservice segments into two separate companies. In the last part of the series, we discussed a brief overview of Manitowoc. In this part of the series, we'll look at Manitowoc's crane business.
Article continues below advertisement
Manitowoc's cranes and related products
Manitowoc's crane segment has 31 facilities in 16 countries. In 3Q14 the segment accounted for 58% of total revenue. The segment provides engineered lifting equipment for the global construction industry. These products include lattice-boom cranes, tower cranes, mobile telescopic cranes, and boom trucks.
Manitowoc mainly markets its crane products under the Manitowoc, Grove, Potain, National, Shuttlelift, and Crane Care brand names. These products find use in a wide variety of applications, including:
Energy and utilities
Petrochemical and industrial projects
Infrastructure applications like road, bridge, and airport construction
Commercial and residential construction
Weak 3Q14 performance for cranes segment
For 3Q14, net sales in Manitowoc's crane segment were $569.2 million, 6.7% down compared to $610.2 million in the third quarter of 2013. The decline in sales was due to continued decline in the rough terrain and boom truck markets in North America and Latin America.
Crane segment operating margin for 3Q14 was 7.3% versus 9.7% for the third quarter of 2013. Third quarter 2014 margins were affected by lower sales volume that was only partially offset by ongoing operational efficiencies.
Crane segment backlog totaled $715.6 million, a 26% increase from 3Q13, but a slight decrease sequentially. Its 3Q14 orders of $557 million were 24% higher than in 3Q13. This represented a book-to-bill ratio of essentially 1.0x. Most of these orders are likely to be delivered in 4Q14.
Article continues below advertisement
Manitowoc says the crane weakness was primarily a result of weakness in the rough terrain crane market, as the total industry in North America was down by 27% year-to-date (or YTD). On the boom truck side, total industry in North America was down by 15% YTD. The company also noted that tower cranes would notice stronger demand from North America, as rental channel utilization is running in the range of 80%.
Management said the company "remains focused on the areas of manufacturing initiatives and capturing purchasing savings. In addition, it will continue to drive cost-savings initiatives to mitigate weaker outlooks within select product categories and end markets."
Lackluster 2014 cranes outlook
For fiscal year 2014, Manitowoc expects 5% to 9% year-over-year (or YoY) revenue decline in cranes with ~7% operating margin.
Article continues below advertisement
Cranes are a cyclical business
The demand for crane products is cyclical, as it depends on macroeconomic conditions and factors that influence construction activity internationally, nationally, or regionally. Currently, the crane business is facing challenges because the recovery in the crane market remains uncertain.
Construction spending
According to the latest data from the Commerce Department, US construction spending rose 1.1% in October to an annual rate of $970.9 billion. This is the biggest advance since May. The American Institute of Architects (or AIA) said that its November billings index was 50.9 in November.
AIA said, "the score indicates that while a majority of firms are still experiencing an increase in firm billings, there were fewer firms seeing this expansion in November than in October, when the score was 53.7."
The AIA further noted, "as per the latest edition of the Federal Reserve's Beige Book report, released in early December, construction and real estate activity generally expanded across the country in late October and November."
Manitowoc and its industry peers