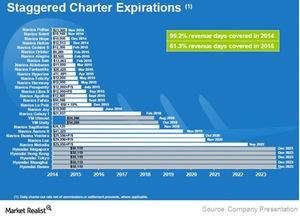 Why maturing contracts are a risk to Navios Maritime Partners
By Katie Dale

Aug. 18 2020, Updated 5:14 a.m. ET
Fleet and charter contracts
Navios Maritime Partners (NMM) has a modern, diverse fleet of 32 vessels with 3.3 million DWT (deadweight tonnage) and an average age of 7.5 years for its combined fleet. Dry bulk accounts for 25 vessels, while container vessels stand at seven.
Industry (SEA) peers like DryShips Inc. (DRYS), Diana Shipping Inc. (DSX), Safe Bulkers Inc. (SB), and Navios Maritime Holdings Inc. (NM) have fleet sizes of 48, 36, 28, and 33, respectively.
Navios has an average charter duration of approximately 3.1 years with 87.8% of contracted revenue sourced through charters longer than three years.
Article continues below advertisement
Staggered charter expirations
With 99.2% of revenue days covered in 2014 and 61.3% covered in 2015, let's take a look at the charter expirations of the company's contracts until December 2023. Investors are concerned over the company's dry bulk vessels, as most of them will mature in the next year.
Two of the company's ships are scheduled for expiry in December 2014. Meanwhile, in 2015, 14 of the company's ships will expire. In 2016, one charter will expire.
Navios Maritime Partners entered the container segment with seven vessels, with over eight years average charter duration. It has the option of extended contract duration and thereby solidified cash flow generation.
The company has made a strategic entry into the container segment at favorable asset values. In August and October 2018, two of the container vessels that were delivered in the second half of 2014 will face charter expirations. The remaining five container vessels of NMM are scheduled to expire in December of 2023.
From the period between November 2018 to November 2020, five of the vessels would expire.