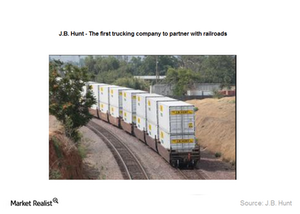 J.B. Hunt focuses on growth through innovation
By Ally Schmidt

Updated
Innovation
Since it started, J.B. Hunt (JBHT) followed a strategy of growth through innovation. JBHT is part of the iShares Transportation Average ETF (IYT).
It was the first major trucking company to cooperate with the railroads. Railroads were considered the trucking industry's arch rival. The company's intermodal division was established in 1989 through a joint venture called "Quantum." The joint venture was with the Santa Fe Railway. This enabled the trucking company to offer its customers door-to-door service in the corridor from California to the Midwest.
Since then, JBHT built alliances with eight other railroads throughout North America—like Union Pacific (UNP), Burlington Northern, Norfolk Southern (NSC), Canadian National, Conrail, Florida East Coast, Santa Fe, Southern Pacific, and Wisconsin Central.
Article continues below advertisement
JBHT also pioneered the research and development of new containers. These containers attached to the base of a JBHT truck and stacked on a railway car. The containers had the capacity to carry 1,000 pounds more than the average containers. In 1993, 7,500 of these multi-purpose containers were added to JBHT's fleet. The company expected to add the containers to the majority of its trucks by 1995.
In 1990, JBHT added a flatbed division to its services. This allowed it to ship materials that were too large for closed vans. As a result, it added customers like Reynolds Metals.
In 1992, the company installed "RoadRider." It was a smart communication system. It was developed by IBM (IBM). The system eliminated the driver's need to call the fleet manager to find out about the next load. The system was installed in 2,100 of its trucks—just over 12% of its total fleet. It reduced the company's long-distance phone bill by ~60%.
Later, JBHT also installed a new program called Micromap. It could evaluate more than 90 different assignment factors at a time. This simplified the logistics manager's responsibilities. It reduced the number of miles that JBHT's trucks ran empty by 10%. It cut operating costs. It also enabled more drivers to return home on time.
After successfully taking advantage of the trucking deregulation in the 1980s, JBHT anticipated the passage of the NAFTA (North American Free Trade Agreement). The agreement promised to relax trade restrictions between the US and its neighboring countries—Canada and Mexico. The company got permission to haul freight in Ontario, Quebec, and British Columbia. It also formed Hunt de Mexico with the Mexican trucking firm Fletes Sotelo. JBHT's competitors stayed away due to the many uncertainties. However, the company didn't stop there.
To ensure efficient delivery, JBHT maintained control all the way to the final destination—instead of handing the freight over to Mexican drivers. JBHT also forged an intermodal agreement in Canada. The agreement was with Canadian National—the country's largest railroad.
JBHT took all of these steps before its competitors. This helped the company gain its current leadership position in the trucking industry.