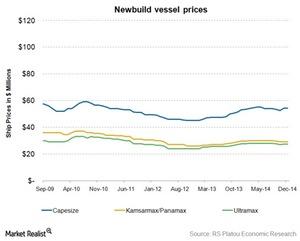 Why increasing Newbuild vessel prices discourages buyers
By Katie Dale

Updated
Newbuild vessel prices
On a weekly basis, vessel prices indicate the current trading prices of Capesize, Panamax, Supramax, and Handymax vessels. Vessel prices also indicate the weekly changes. With the weekly prices indicating the dry bulk industry's short-term performance, we'll also discuss the four-week average prices in order understanding the data better.
A dry bulk vessel takes almost two or three years to build. It can take longer than three years. Each vessel costs ~$60 million or more.
Article continues below advertisement
Current prices
For bulk carriers, Capesize vessel prices in December 2014 remained consistent with its November 2014 level of $54.2 million. However, it's an increase from $53 million recorded in December 2013. Kamsarmax and Ultramax vessel prices recorded $29 million and $27.2 million, respectively—compared to $29.1 million and $27.4 million, respectively, in the previous month. In the same month last year, prices were $29.5 and $27.5 million, respectively.
The total dry bulk fleet grew to 797 million deadweight tonnage, or DWT, from 654 million DWT. Capsize vessels recorded 22.7% growth. Panamax vessels recorded 31.2% growth. Handymax or Supramax vessels grew 22.5%.
During 2014, 2,874 orders were recorded for newbuilds. Greek owners recorded a 30% decline—compared to the level last year. 2014 was challenging for the newbuild market in terms of activity. It was mainly led by the sharp year-over-year, or YoY, fall in dry bulk orders. After the high ordering levels in 2013, newbuild prices remained on an upward trend for most of the first half of 2014.
Article continues below advertisement
Impact on markets and companies
Looking ahead to 2015, newbuild prospects aren't bright—despite the fact that current prices stand well off January's highs. Currently, the majority of owners don't seem interested in placing new ship orders. In other sectors, owners are in a good earnings position. The tonnage is due to hit the waters in 2015. In these sectors, high vessel prices are bound to put pressure on the earnings. This could discourage owners from placing new orders.
The Guggenheim Shipping ETF (SEA) and the performance of dry bulk shipping companies—like DryShips Inc. (DRYS), Diana Shipping Inc. (DSX), Navios Maritime Partners LP (NMM), Navios Maritime Holdings (NM), and Safe Bulkers, Inc. (SB)—will likely be positive. There will be significant YoY growth in Capesize vessel prices and the dry bulk orderbook.