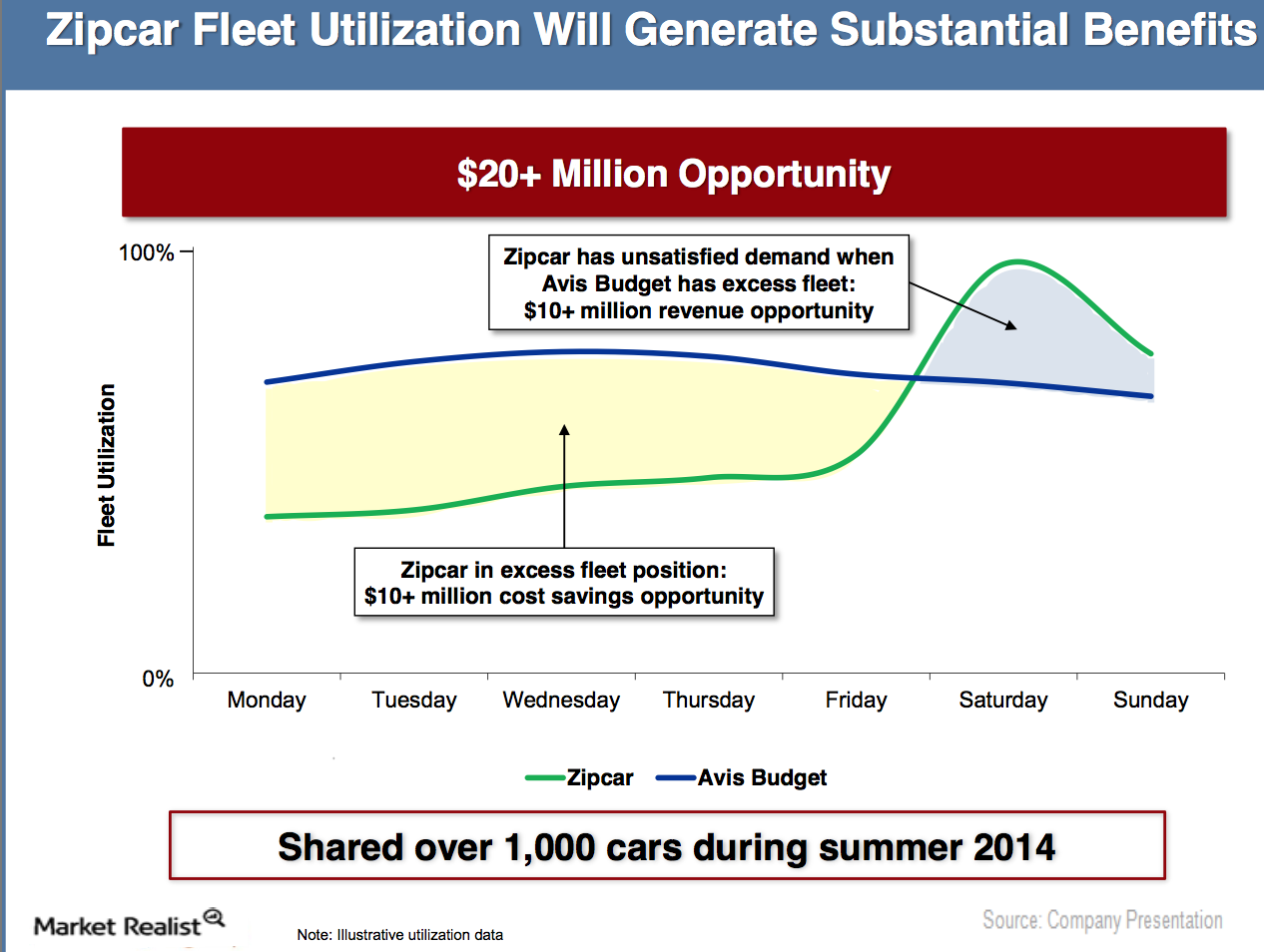 Avis Budget Group's Zipcar is a going concern
Viking Global takes stake in Avis Budget Group
Hedge fund Viking Global started a position in Avis Budget Group (CAR). It owns a 5% stake in Avis. In this part of the series, we'll learn how the company's acquisition of Zipcar is creating synergies for Avis.
Article continues below advertisement
Strategic acquisition of Zipcar
Avis Budget Group (CAR) completed the $500 million acquisition of Zipcar in March 2013.
Zipcar is the world's leading car-sharing network, with more than 900,000 members. It operates in more than 30 major markets and on 300 college campuses. It does business in the US, Canada, and Europe. In 2013, Zipcar reported revenues of $296 million.
In 3Q14, Zipcar generated more revenue than any quarter in its history, primarily on an increase in usage revenue and pricing, as well as membership. Here are some of the company's accomplishments in 3Q14:
began pooling of cars between Zipcar and Avis Budget Group to satisfy more members' needs for wheels – pooling is operational at over 80 locations with plans to expand to over 150 locations nationwide
signed partnership with Southwest Airlines for its crew of 45,000
launched Zipcar to 21 additional universities in four new cities in North America
expanded Zipcar to Paris and Madrid
made one-way transactions available to the more than 80,000 Zipsters in Boston
signed an agreement with GSA (U.S. General Services Administration) to serve government employees in Washington, New York, Boston, and Chicago
signed additional corporate accounts to Zipcar
Avis and its peers
In 3Q14, Avis Budget Group, or Avis, reported revenues of $2.5 billion, a 6% increase year-over-year. The gain was driven by "a continuation of the strong volume and pricing trends it experienced in North America." Like Avis, Hertz Global Holdings (HTZ) and Ryder System (R) also benefited from increased pricing and increased demand from North America. United Rentals (URI) also experienced improved demand due to the "North American construction recovery." Meanwhile, AMERCO (UHAL) is expanding its rental fleet to serve more customers.
In the next part of this series, we'll look at the contribution of the North America segment to Avis Budget Group.