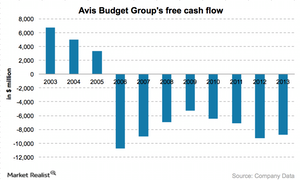 Avis Budget Group to acquire "available opportunities"
Viking Global's new position in Avis Budget Group
Hedge fund Viking Global started a position in Avis Budget Group (CAR). It owns a 5% stake in the company, or Avis. Previously in this series, we covered Avis Budget Group and its business segments.
Article continues below advertisement
Capital allocation
Avis is using its free cash flow to improve shareholder value through a combination of share repurchases and capital investments via acquisitions. The mix depends on "available opportunities." The company has generated negative free cash flow since year 2006.
Avis Budget Group's share repurchases
Avis repurchased 60 million shares in the third quarter of 2014. It repurchased 70 million more shares in the month of October. This year, total repurchases are worth $280 million. It expects to repurchase a total of $300 million to $330 million of stock this year.
Avis has increased its share-repurchase authorization by an additional $200 million. It expects the share repurchase program to give it the "capacity it needs while highlighting the confidence it has in its company and the long-term prospects for its business."
Article continues below advertisement
Avis to acquire rental locations from ACE
In August, Avis Budget Group (CAR) acquired 11 car-rental locations from ACE Rent a Car for approximately $10 million plus the cost of the acquired fleet. Locations include operations at Chicago O'Hare, Dallas Love Field, and three other airports.
Avis's "tuck-in acquisitions"
In November, Avis Budget Group completed a significant acquisition of its largest budget licensee for Southern California and Las Vegas for approximately $210 million, plus the cost of acquired fleet. The acquisition was funded primarily with the proceeds from a $175 million offering of senior notes. According to the company, "These acquisitions are expected to add $100 million of revenue and more than $25 million of Adjusted EBITDA." The acquisition is expected to create incremental debt capacity for the company.
Article continues below advertisement
On December 17, Avis Budget group agreed to acquire its licensee for the Avis and Budget brands in Norway, Sweden, and Denmark for approximately $50 million. The acquisition is expected to add more than $100 million of annual revenue and approximately $10 million of Adjusted EBITDA (earnings before interest, taxes, depreciation, and amortization). The deal is expected to close in the first quarter of 2015.
Debt retirement
Avis retired $65 million of outstanding corporate debt on October 1 with the maturity of its convert. It expanded its revolving credit facility in October by $150 million.
Net corporate debt-to-adjusted EBITDA is 3x.
Avis's dividend policy
Avis's dividend yield stands at 0%, which is in line with the majority of its rivals. Dividend yields for Hertz Global Holdings (HTZ) and United Rentals (URI) also stand at 0%. Ryder System (R) and AMERCO (UHAL) have dividend yields of 1.57% and 0.37%, respectively.
In the last part of this series, we'll see how Avis stands up against its peers.