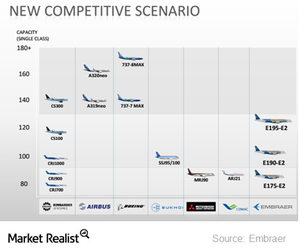 What are the threats for Embraer?
By Ally Schmidt

Dec. 24 2014, Updated 12:02 p.m. ET
Threats from new competitors
Embraer (ERJ) has made a mark in the regional jet market, but now there may be significant threats for Embraer. The company faces tough competition from established players such as Boeing (BA) and Airbus (EADSY). It also competes with newer players such as Mitsubishi Regional Jet and COMAC. Some of these are part of the Dow Jones Industrial Average ETF (DIA). Aviation giant Airbus launched its A320 neo series featuring Pratt & Whitney's (UTX) turbofan engine to occupy the low end of the narrow-bodied segment. Boeing's soon followed with the launch of its reengineered 737 Max powered with the CFM International Leap-1 engine.
Article continues below advertisement
Newer players such as China's COMAC is launching its C919 single-aisle commercial jets that are expected to take flight in 2015. It has already received 430 orders from 17 clients and pledges for another 23, including its first order from Africa. Mitsubishi has launched its Mitsubishi Regional Jet, the MRJ70/90, in direct competition with Embraer and has booked about 223 firm orders, mostly from Asian airlines.
Threats for the company
Let's now look at some of the other potential threats for Embraer.
With a growing number of competitors in the market, Embraer's profitability and price advantages reduce with time.
With China entering the market, Embraer will find it difficult to maintain the lower production costs advantage.
Global competition requires Embraer to keep abreast with newer technologies, which thus requires the company to constantly fund research and development activities.
Stagnancy in the North American and European markets will now require Embraer to look for opportunities in newer markets. This will require the company to invest in its marketing since it will face fierce competition from its rivals.
Embraer needs to invest in making extensions of its products to stay abreast in the competition.
High tax rates and loan rates will also dampen Embraer's financials.