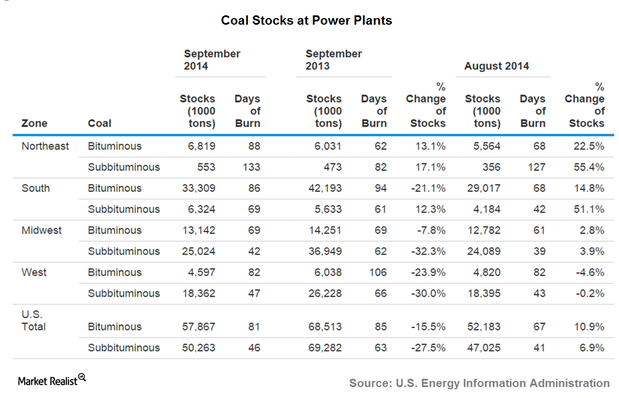 PRB coal producers may benefit from restocking at utilities
By Mike Sonnenberg

Dec. 4 2020, Updated 10:52 a.m. ET
Coal stocks
Coal stocks indicate coal demand in the near future. Coal-fired power plants burn coal almost continuously. They only take breaks during plant maintenance. The process of extracting and transporting coal takes time. In order to avoid disruptions, utilities have to stock up on coal in advance.
Utilities order fresh shipments of coal once the current stock reaches a certain minimum level. The EIA (US Energy Information Administration) publishes coal stocks' data on a monthly basis. Analyzing the data provides key insights into future coal demand.
Article continues below advertisement
Current scenario
Utilities in the northeast and south mainly burn bituminous coal. Utilities in the west and Midwest mainly burn sub-bituminous coal found in the PRB (Powder River Basin). Utilities in the northeast and south increased their stocks substantially in September. Coal stocks in the Midwest increased moderately. Utilities in the west remained subdued.
Shipments out of the PRB have been hit by rail operators' underperformance. Union Pacific (UNP) and BNSF (BRK-B) operate in the region.
A detailed account of the rail connectivity issue can be found in Why the Powder River Basin produces more coal with fewer mines. Cloud Peak Energy (CLD) and Peabody Energy (BTU) are two major coal producers (KOL) in the PRB.
What's next?
At the beginning of winter, the coal stocks at the west and Midwest utilities are still running low. The PRB producers are struggling to get enough rail cars to meet utilities' demand. As a result, the PRB coal producers—like Cloud Peak Energy (CLD)—may see increased demand, due to restocking, well into 2015. In the east, a lot depends on how the winter develops. If the winter is worse than expected, utilities may increase their inventory requirements going forward to avoid running out of fuel.
What about imports? Do they compete with domestic coal? We'll discuss imports in the next part of this series.