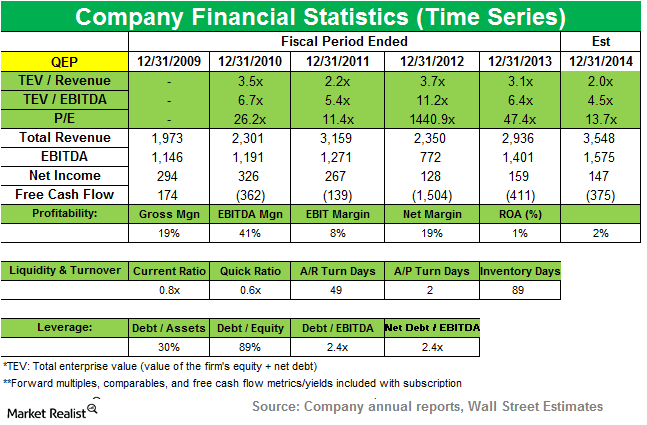 Omega Advisors ups position in QEP Resources
By Samantha Nielson

Dec. 23 2014, Updated 10:08 a.m. ET
Omega Advisors and QEP Resources
Omega Advisors added to its position in QEP Resources (QEP) during the third quarter. The position accounts for 1.36% of the fund's 3Q portfolio. It currently holds 3,889,830 shares, up from 1,430,528 shares in the second quarter that ended in June.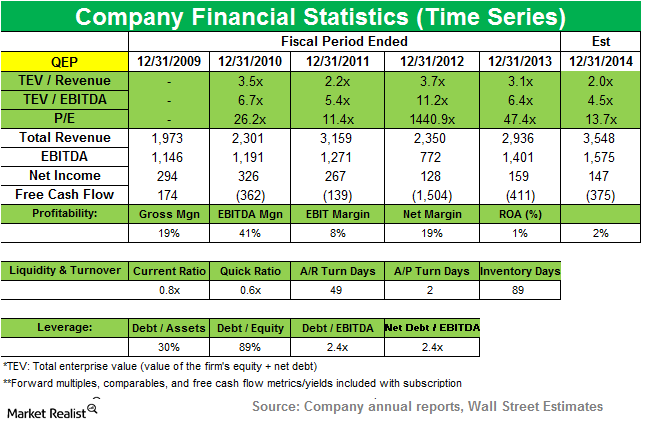 Article continues below advertisement
Overview of QEP Resources
QEP Resources is an independent natural gas and crude oil exploration and production company concentrated in two major regions. The Northern Region is primarily situated in the Rockies and the Williston Basin. And the Southern Region is primarily situated in Texas and Louisiana in the United States. QEP Resources has two major subsidiaries:
QEP Energy Company – engaged in oil and gas exploration and production
QEP Marketing Company – engaged in oil and gas marketing, and the operation of the Haynesville Gathering System and an underground gas storage reservoir
Sells midstream business
Following activist pressure from JANA Partners earlier this year, QEP Resources agreed to sell its midstream business, QEP Field Services Company, and authorized a $500 million share repurchase program. JANA exited its stake in QEP Resources in October.
In October 2014, QEP Resources entered into an agreement to sell its midstream business to Tesoro Logistics in an all cash transaction valued at $2.5 billion that included $230 million to refinance debt. A release noted that QEP Resources "completed its transformation to become a more competitive and financially strong independent E&P company with assets in two of North Americas most prolific crude oil provinces, the Williston and Permian Basins, and low-cost, high quality natural gas properties in the Rocky Mountains and in northwest Louisiana."
QEP Resources also entered into two purchase and sale agreements to divest non-core properties in southern Oklahoma.
Article continues below advertisement
3Q14 results beat estimates on higher production
QEP Resources' latest 3Q results beat estimates. It posted net income of $171.1 million, or $0.94 per diluted share, compared with net income of $37.3 million, or $0.21 per diluted share, in the third quarter of 2013. Total revenue grew to $910 million from $719.5 million in the same period a year ago. The company said, "In the crude oil-rich Williston and Permian basins, average daily production increased 29% and 18%, respectively, from the second quarter 2014. "
Adjusted EBITDA (earnings before interest, taxes, depreciation, and amortization) from continuing operations grew $370.9 million in 3Q14 from $340.8 million in 3Q13. This was due to a 77% increase in oil production and a 35% increase in natural gas liquids, or NGLs, production. The growth in oil and NGLs production was partially offset by a 24% decrease in gas production.
QEP Resources stated that "while historically a natural gas producer, it has increased its focus on growing the relative proportion of oil and NGL production in its E&P business." Its crude oil and NGL revenues increased 47% compared with the third quarter of 2013, representing approximately 72% of field-level production revenues.
Omega's 3Q14 positions
The fund added new positions in AerCap Holdings N.V. (AER), Nordic American Offshore (NAO), and Melco Crown Entertainment (MPEL). It exited its positions in Qualcomm (QCOM), Ocwen Financial Corp. (OCN), Freeport-McMoRan (FCX), and Boston Scientific Corp. (BSX). Notable position increases during the third quarter were QEP Resources (QEP) and United Continental Holdings (UAL).
The next part of this series will review Omega's position change in United Continental Holdings.