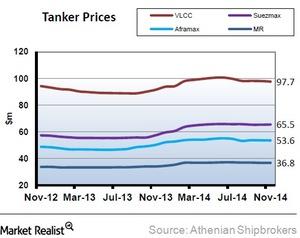 Newbuild prices record marginal change
By Katie Dale

Updated
Vessel prices
A tanker takes two or three years to build. Each vessel costs ~$60 million. Unlike shipping rates in the spot market, newbuild prices are less volatile and not subject to seasonality. While newbuild prices and shipping rates have diverged at times, they have more or less followed each other in the past.
Newbuild VLCC (very large crude carrier) prices for the month of November 2014 decreased to $97.7 million compared to $98.1 million in October 2014. The data were reported by the Athenian Shipbrokers. Newbuild VLCCs are the largest common ship used to transport crude oil over long distances.
November Suezmax prices stood at $65.5 million compared to $65.4 million in September. Aframax prices stood at $53.6 million compared to $53.7 million in October 2014. MR Clean vessel prices remained consistent at $36.8 million, its October level.
Article continues below advertisement
Impact on markets and companies
Crude tankers had a strong performance toward the end of 2014 with high earnings volatility added to it. In the same period, asset prices increased on the back of improving investor appetites for newbuildings and stronger spot revenues. However, this is still below the 2008 peak in asset prices.
Newbuild prices affect the Guggenheim Shipping ETF (SEA) and tanker companies such as Teekay Tankers Ltd. (TNK), DHT Holdings Inc. (DHT), Frontline Ltd. (FRO), and Nordic American Tanker Ltd. (NAT). Alongside ship orders, they reflect company managers' expectations of the industry's future outlook and profitability. With prices falling, these companies have an opportunity to buy vessels at lower prices and take advantage of lower fixed costs.