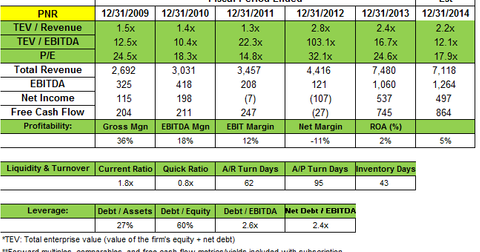 Glenview Capital ups position in Pentair
By Samantha Nielson

Jan. 1 2015, Updated 7:06 p.m. ET
Glenview Capital and Pentair
Glenview Capital Management added to its position in Pentair Plc (PNR) in the third quarter. Currently, the position accounts for 2.41% of the fund's total portfolio. The fund added 5,896,754 shares to its existing holding during the quarter.
Article continues below advertisement
Overview of Pentair
PNR is a diversified industrial manufacturing company. It has four reporting segments:
Valves & Controls – The segment designs, manufactures, markets, and services valves, fittings, automation and controls, and actuators for the energy and industrial verticals. It operates as a stand-alone global business unit, or GBU.
Process Technologies – The segment designs, manufactures, markets, and services innovative water system products and solutions to meet filtration, separation, and fluid process management challenges in food and beverage, water, wastewater, swimming pools, and aquaculture applications. This segment is comprised of the Filtration & Process and Aquatic Systems' GBUs.
Flow Technologies – The segment designs, manufactures, and markets products and services designed for the transfer and flow of clean water, wastewater, and a variety of industrial applications.
Technical Solutions – The segment designs, manufactures, markets, and services products that guard and protect some of the world's most sensitive electronics and electronic equipment. It also includes heat management solutions designed to provide thermal protection to temperature-sensitive fluid applications.
Sale of water transport business in Australia
In July, the company's board decided to exit its water transport business in Australia. The business was performing below expectations due to a downturn in the mining market in Australia.
Recently, PNR reaffirmed its fourth quarter and full-year 2014 sales and earnings outlook. It expects 4Q14 adjusted EPS (earnings per share) to be $1.02–$1.04. This is up ~20%—compared to the adjusted EPS for the same quarter last year. The company expects full-year 2014 adjusted EPS to be $3.72–$3.74. This represents an increase of 22%—compared to the 2013 adjusted EPS of $3.05.
Article continues below advertisement
3Q14 sales of $1.8 billion were up 3%—compared to sales for the same period last year. It posted a loss of $186 million, or $0.95 per share—compared to a profit of $172.8 million, or $0.85 per share last year. Adjusted earnings per diluted share was $1—up 22% from an adjusted EPS of $0.82 in 3Q13. The adjusted EPS excluded repositioning costs, acquisition and redomicile-related expenses, the gain or loss on the sale of a business, and certain tax items.
Announces share buyback and raises dividend
PNR approved a 16% increase in the company's regular annual cash dividend rate for 2015—from $1.10 per share paid in 2014 to $1.28 per share. The board also authorized the company to repurchase up to $1 billion of its common shares.
Glenview's positions in 3Q14
The fund added new positions in Actavis (ACT), Danaher Corp. (DHR), Realogy Holdings Corp. (RLGY), and 21st Century Fox (FOXA). Its top exit was Walgreens (WAG). It raised stakes in Pentair Plc (PNR), Liberty Global Plc (LBTYA), Endo International Plc (ENDP), and Fidelity National Financial (FNF).
The next part of this series will highlight the fund's position change in LBTYA.