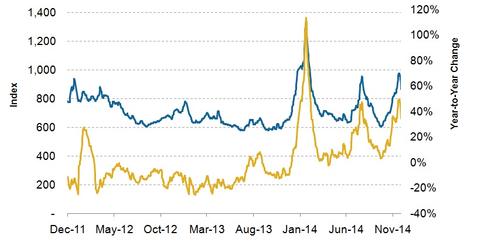 The Baltic Dirty Tanker Index impacts the shipping industry
By Katie Dale

Updated
Baltic Dirty Tanker Index
In order to determine the crude oil shipping industry's revenues and earnings, analysts and money managers follow the Baltic Dirty Tanker Index. Its year-over-year (or YoY) growth numbers have a significant impact on companies like Tsakos Energy Navigation Ltd. (TNP), Frontline Ltd. (FRO), Teekay Tankers Ltd. (TNK), Nordic American Tanker Ltd. (NAT), and the Guggenheim Shipping ETF (SEA).
Article continues below advertisement
November's statistics
In the past two weeks—starting November 10—the Baltic Dirty Tanker Index widened to $947 on November 25. It was 839 on November 10. It recorded a 12.9% increase. On a YoY basis, the index recorded a 45% increase from 653 on November 26, 2013. Oil and gas storage and transportation make up 36.8% of SEA's holdings.
Outlook
The tanker market's demand fundamentals are in the positive. As a result, the Baltic Dirty Tanker Index will likely continue its upward movement. The trend is also being driven by the increased demand to ship higher Chinese volumes.