Why Dominion commands a premium
By Matt Phillips

Nov. 26 2019, Updated 9:32 p.m. ET
Dominion's growth prospects
Dominion (D) trades at a premium compared to its competitors—like Duke Energy (DUK) and Southern Company (or SO)—in the power utility industry. Most of the premium can be attributed to its growth prospects. Dominion's management has made its intent very clear. Management wants to aggressively expand their regulated electricity and gas business.
The regulated business offers steady revenues and profitability to companies. As a result, the business risk in the proposed expansion seems low. Also, Dominion is increasing its liquefied natural gas (or LNG) services. It has been cleared by government agencies to start its LNG export services. Dominion is an early mover in this space. It will be rewarded in the future.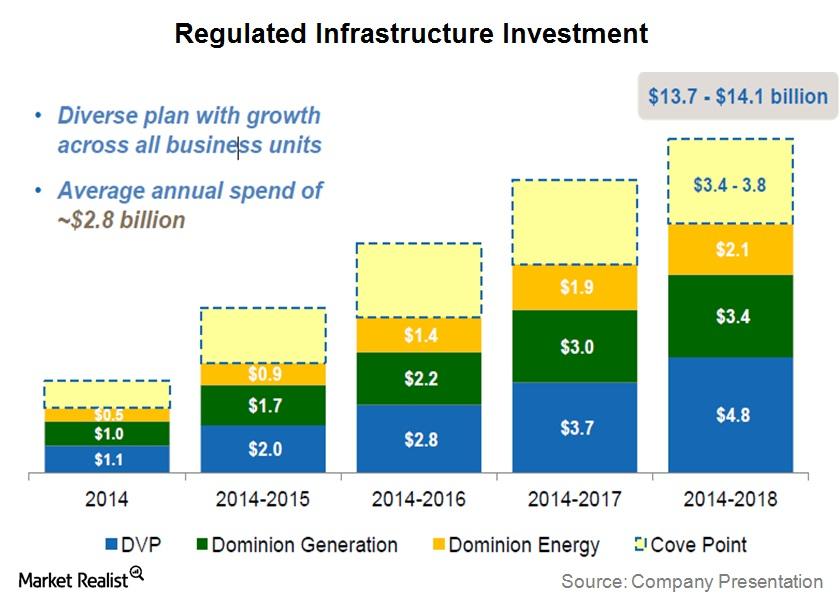 Aggressive capex to boost regulated business
Dominion's CEO, Thomas F. Farrell II, mentioned that the company will see more than 80%–90% of its revenues generated from regulated segments. To achieve this, Dominion plans to invest a total of $14.1 billion in the next five years. It will invest the funds in a staggered manner.
This means that it will spend an average of $2.8 billion annually to strengthen its regulated business. The growth prospect in a monopolistic business has made investors value Dominion at a premium compared to other utility stocks.
LNG export services will be a differentiator
Article continues below advertisement
Recently, Dominion got government agency approval to set up a LNG export project. This is the fourth project to receive clearance in the U.S. to export LNG to other countries. This will be the first LNG export hub located in Maryland. The export of compressed natural gas (or CNG) will begin in late 2017.
Sempra Energy (SRE) and Cheniere Energy's (LNG) LNG export projects are already been cleared by the government. The projects are located in Louisiana and Texas.
Dominion is the fourth largest holding in the Utilities Select Sector SPDR (XLU). XLU is a key exchange-traded fund (or ETF) in the power utility industry.
Click here to learn more about LNG.