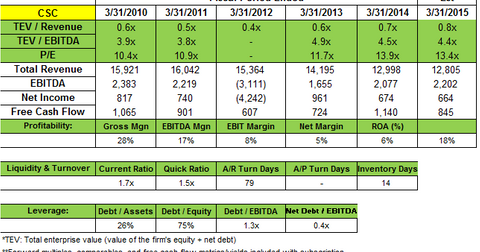 Greenlight exits position in Computer Sciences Corporation
By Samantha Nielson

Updated
Greenlight Capital and Computer Sciences Corp.
Greenlight Capital exited a position in Computer Sciences Corporation (CSC). The position accounted for 2.05% of the fund's portfolio for the second quarter that ended in June.
Article continues below advertisement
Overview of Computer Sciences Corp.
CSC provides information technology (or IT) and professional services and solutions. The company's reportable segments are Global Business Services (or GBS), Global Infrastructure Services (or GIS), and North American Public Sector (or NPS).
GBS provides end-to-end applications services, consulting, big data, and industry-aligned software and solutions to enterprise clients around the world. Through strategic partnerships with leading technology companies—like HCL Technologies and SAP—CSC helps clients modernize and move enterprise workloads to next generation cloud infrastructure. It leverages the benefits of mobility, social networking, and big data.
GIS provides managed and virtual desktop solutions, unified communications and collaboration services, data center management, cloud services, cyber security, and compute and managed storage solutions to commercial clients globally. It also delivers next-generation hybrid Cloud infrastructure solutions to clients.
NPS delivers IT, mission, and operations-related services to the Department of Defense, civil agencies of the US federal government, as well as other foreign, state, and local government agencies.
Greenlight gains from CSC's "successful turnaround"
Greenlight said in its investor letter that the CSC position was acquired at $27.89 per share and sold at $51.04 per share. The fund said that beginning in 2012, the "new management—led by CEO Mike Lawrie—executed a successful turnaround by cutting overhead and selling non-core assets, leading to higher operating margins, better free cash flow and a more shareholder-friendly capital allocation policy." The fund said it exited its investment with the shares reflecting an improved performance.
Article continues below advertisement
Rumors of a leveraged buyout
An unconfirmed Bloomberg report at the end of September said CSC has been trying to attract interest from private-equity firms including Blackstone Group LP and Bain Capital LLC over a leveraged buyout. The report noted that CSC explored a sale in 2006, but failed to finalize a deal. CSC's CEO, Mike Lawrie, believes that the company is in a better position for a sale because its turnaround is halfway done. The report added that although CSC's multiples are attractive, the companies are concerned about its cash flow and slower-growing units.
Fiscal 2Q15 revenues decline and miss estimates
CSC revenues for the second quarter of fiscal 2015 fell 3.4% to $3.08 billion and missed estimates. It had earnings per share (or EPS) from continuing operations of $1.18 per share for the second quarter. This was a 17% increase year-over-year (or YoY). Net income was $151 million—compared to $232 million in the same period in fiscal 2014.
Management said that "growth in commercial business and next-generation offerings has been able to offset headwinds in the infrastructure business. Its public sector business has seen a normalization of revenue and continues to deliver strong margins, which is helping to drive overall earnings growth."
Article continues below advertisement
In terms of segments, GBS revenue fell 1.9% due to reduced revenue within its applications and consulting groups. Reduced application revenue resulted from contracts that either concluded or were winding down. A decline in consulting revenue was due to repositioning of the consulting business and certain contract conclusions.
The GIS segment decreased 6.9% due to the impact of price downs, restructurings, and contract conclusions. NPS revenue fell 1% as an increase in state and local government revenue largely offset declines from Department of Defense contracts.
Greenlight's positions during the third quarter
The activist fund added new positions in Citizens Financial Group (CFG), CONSOL Energy (CNX), ON Semiconductor (ONNN), AECOM Technology Corporation (ACM), and NorthStar Asset Management Group Inc. (NSAM). Its top exits were Computer Sciences Corporation (CSC) and Tempur Sealy International Inc. (TPX). Greenlight's investor letter highlighted its investments in Civeo and EMC.
The next part of this series will highlight the fund's exit from Tempur Sealy International.