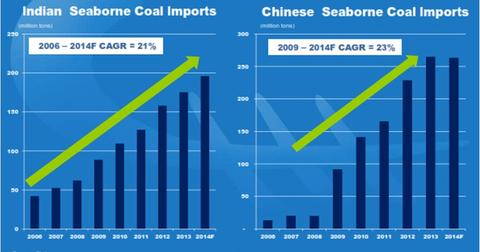 Why China's coal and grain trade increased
By Katie Dale

Updated
China's coal trade
Coal trade saw significant changes over the past few years. China was a net coal exporter in 2009—only five years ago. Today, it's the world's largest importer.
Navios Maritime Partners' (NMM) management commented that India and China's seaborne coal imports grew at over a 20% compound annual growth rate (or CAGR) between 2009 and the estimated total in 2014. With projected increases in steel production and coal-fired power generation, coal imports in both countries are forecast to grow over the next several years.
Management also commented that Chinese coal imports have been flat in 2014. The sale agreement between China and Australia moved the coal trade tariff barrier. There was a free-trade agreement between Australia and China in October. The agreement was mainly to benefit Australian exporters.
Australian trade minister, Andrew Robb, said he hopes Beijing's decision to put tariffs on coal imports won't delay the government's planned free-trade deal with China.
Recently, China announced the potential for stronger inputs going into 2015. This will benefit NMM.
The agreement will also impact other companies like DryShips Inc. (DRYS), Diana Shipping Inc. (DSX), Safe Bulkers Inc. (SB), and Navios Maritime Holdings Inc. (NM). It will impact the Guggenheim Shipping ETF (SEA).
China's grain imports
Article continues below advertisement
From 2012–2022, China's grain imports are expected to double—combined with the country's per capita income. According to management's estimates, this will lead to an improved diet. It will also lead to increased poultry and meat consumption. It takes about eight tons of grain to produce one ton of beef.
Grain shipments are small compared to iron ore and coal. However, grain shipments account for a large portion of vessel demand. Grain is an inefficient cargo to load and discharge.