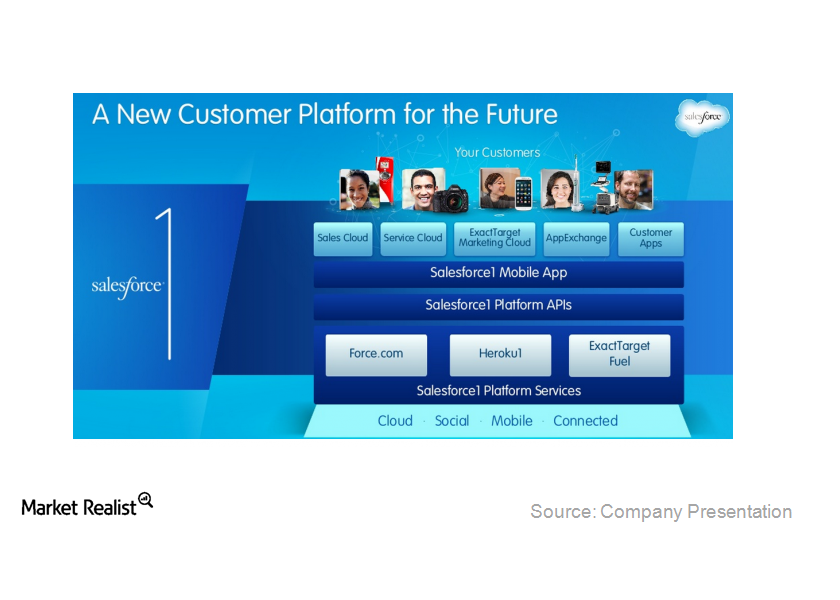 Must-know: Saleforce.com's "industry strategy"
By Anne Shields

Sep. 10 2014, Updated 6:42 p.m. ET
Three-pronged industry strategy 
In April 2014, Salesforce.com (CRM) announced its "industry strategy." The company wants to expand its presence across various industry verticals.
The company's three-pronged industry strategy includes:
• Industry-focused business groups that will be built to develop, market, and sell the company's suite of applications. The company would benefit from the huge growth expected in the CRM market.
• Motivate and encourage platform independent software vendors (or ISV's) to build, market, and sell industry applications. Like Amazon Web Services (AMZN) and Microsoft (MSFT), Salesforce.com allows its partners to build, sell, and service industry-specific applications. Although the company has the expertise and agility to build industry-specific applications in-house, building and supporting these applications increases research and development, sales, and marketing costs. To reduce these costs, Salesforce.com has joined with ISV Platform partners to develop and sell industry-specific applications.
• Acquisition of vendors with industry-specific expertise to tailor Salesforce.com's solutions to verticals.
Positive news about Salesforce.com will benefit the Shares North American Tech-Software ETF (IGV).
The previous presentation outlines Salesforce.com's strategy that's focused on the customer.
Salesforce1 focused on the "Internet of Customers"
Article continues below advertisement
The Salesforce1 Platform refers to the industry-specific strategy that the company launched in November 2013. The company claims it's the first CRM platform for developers, ISVs like Linkedin (LNKD), end users, and customers moving to the new social, mobile, and connected cloud. Salesforce1 is built to transform sales, service, and marketing applications for the Internet of Customers. Salesforce defines the concept of "Internet of Customers" as the connection of every application, employee, partner, product, and device with the customers using the power of social, mobile, and cloud.
Industries served
Salesforce1 is focused on delivering its offerings to the following industries:
financial services and insurance
healthcare and life sciences
retail and consumer products
communications and media
public sector
automotive and manufacturing