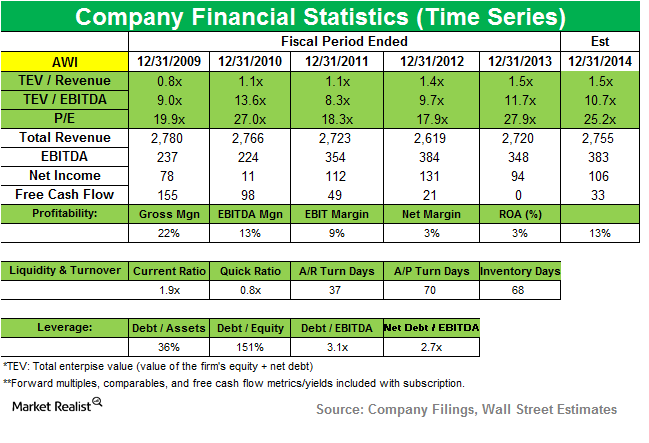 Eton Park starts new position in Armstrong World Industries
By Samantha Nielson

Sep. 23 2014, Updated 9:01 a.m. ET
Eton Park's new positions in 2Q14
Eric Mindich's Eton Park Capital Management added new positions in Allergan Inc. (AGN), Armstrong World Industries (AWI), B/E Aerospace (BEAV), and AerCap Holdings (AER). Eton Park exited its positions in Equinix (EQIX), Moody's (MCO), and Mead Johnson Nutrition (MJN) during 2Q14.
Eton Park started a new position in Armstrong World Industries (AWI) that accounts for 2.09% of the fund's second quarter portfolio. The fund acquired a 6.7% passive stake in Armstrong that it disclosed via a 13G filing in August.
Overview of Armstrong World Industries
Article continues below advertisement
Armstrong World Industries is a global producer of flooring products and ceiling systems for the construction and renovation of residential, commercial, and institutional buildings. The company designs, manufactures, and sells resilient flooring and wood flooring products. Its ceiling systems are mineral fiber, fiberglass, and metal. AWI has four business segments: building products, resilient flooring, wood flooring, and unallocated corporate.
Armstrong sees activist interest from ValueAct Capital
Jeff Ubben's ValueAct Capital said in a 13D filing in August that it acquired 9.2 million shares, or a 16.8% stake in Armstrong. Read more about ValueAct's activist position in Armstrong.
Construction trends influence AWI's revenue growth
AWI's revenue opportunities come from new construction as well as the renovation of existing buildings. Macroeconomic trends that influence commercial and residential market activity affect Armstrong and other building product companies like USG Corp. (USG), Mohawk Industries Inc. (MHK), and Interface Inc. (TILE).
The prevailing economic conditions influence the cyclical nature of commercial and residential construction activity, including construction activity that the public sector funds. These conditions include the rate of growth in gross domestic product (or GDP), prevailing interest rates, government spending patterns, and investor and consumer confidence.
Shares fall in AWI's 2Q14 results

Article continues below advertisement
Armstrong's stock fell at the end of July causing its 2Q14 earnings and revenue to fall short of analysts' expectations. Revenue was up 0.5% to $710 million compared to the corresponding quarter last year. Adjusted diluted earnings per share (or EPS) fell 1% to $0.60. Net income declined 31.4% to $21 million.
AWI said that consolidated net sales increased slightly compared to the corresponding period last year. This resulted from favorable price and product mix despite lower volumes across all businesses in the Americas and Europe. Net income and operating income declined due to increased manufacturing and input costs, primarily as a result of rising lumber costs and the margin impact of lower volumes.
AWI posts outlook below expectations
AWI's shares also fell at the end of July because of the company's lackluster outlook. AWI lowered its full year guidance for sales by $100 million. It lowered the adjusted earnings before interest, taxes, depreciation, and amortization (or EBITDA) range by $30 million. AWI based its outlook on the market activity in May and June, and also on the downward revisions to GDP.
For the full year, AWI now expects sales to be in the $2.7 to $2.8 billion range and its EBITDA to be in the $370 to $400 million range.
The next part of this series will discuss Eton Park's new position in B/E Aerospace (BEAV).