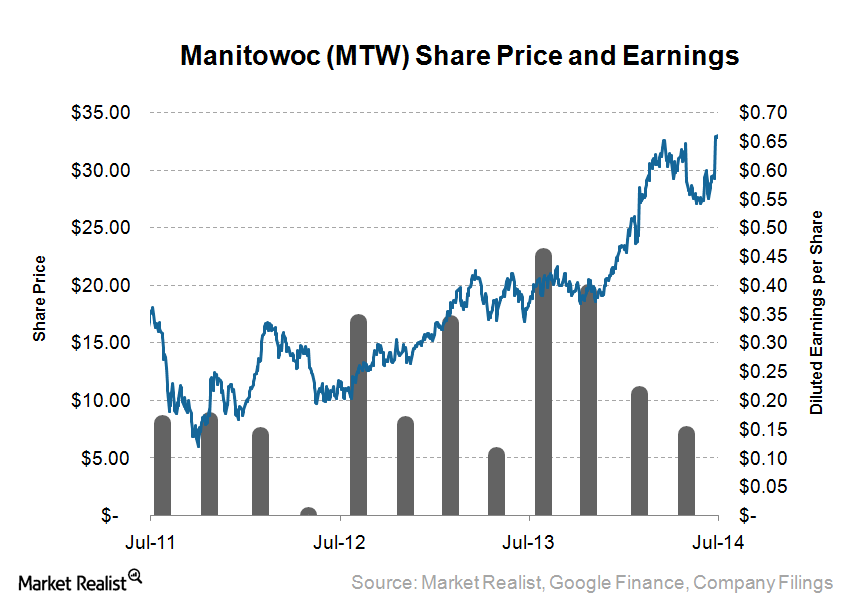 Relational Investors goes activist on Manitowoc
By Samantha Nielson

Oct. 29 2019, Updated 11:57 p.m. ET
Relational Investors and Manitowoc
Relational Investors LLC was co-founded by Ralph Whitworth and David Batchelder. It filed a 13D with the SEC last week and said it acquired 11.5 million shares, or an 8.52% stake, in Manitowoc (MTW). The activist investor has urged for a spinoff Manitowoc's Foodservice business. Let's find out why.
Manitowoc
Manitowoc is a multi-industry capital goods manufacturer. It operates in two principal markets:
Cranes and Related Products
Foodservice Equipment
Article continues below advertisement
According to Relational's SEC filing, Manitowoc's "two businesses differ materially in their operating metrics and cyclical characteristics." The fund further added that the company's "shares are undervalued, and the current share price does not adequately reflect the full potential for significant earnings and cash flow growth." The fund noted that a spinoff of the Food business from the Crane business would maximize shareholder value.
The proposed spinoff
Relational said it met with Manitowoc's management in January to recommend a spinoff of its Foodservices business into a separately traded public company. But the board has yet to schedule a meeting with the fund, the 13D filing revealed.
The fund believes the current business combination of the two segments has led Manitowoc "to trade at a perpetual discount, as reflected in the company's stock price performance and its EV/EBITDA multiple which is more closely in line with its public crane comparable than its public food equipment comparable (which trades at a significant premium to the Crane business)."
In response, Manitowoc's chairman and chief executive officer, Glen E. Tellock, said in a press release that the company "will continue to consider and review Relational Investors' suggestions." The release added that Goldman, Sachs & Co. has been hired as a financial advisor to explore "strategic imperatives to drive long-term shareholder value."
Experience
The activist fund further said it has "direct and recent experience engaging companies suffering similar discounts" at the Timken Company (TKR), B/E Aerospace, Inc. (BEAV), ITT Corporation (ITT), Ingersoll-Rand Public Limited Company (IR), and Agilent Technologies, Inc. (A). For these companies, separation incongruent businesses led to significant value creation. "This experience gives us confidence in our analysis of the potential value creation available to the company (Manitowoc)," Relational added.
Why you've been seeing spinoffs
Spinoffs have gained popularity as a method to unlock shareholder value—especially among activist investors.
Earlier this year, Casablanca Capital pushed Cliffs Natural Resources (CLF) to spin off the company's international assets.
Pinnacle Entertainment (PNK) has seen activist investor Orange Capital LLC urge the casino operator to spin off its properties into a real estate investment trust (or REIT).
JANA Partners opened an activist position in Oil States International (OIS) last year. The fund was instrumental in the recent spinoff of its accommodation business, Civeo (CVEO).
You can gain exposure to spinoffs by investing in the Guggenheim Spin-Off ETF (CSD). This ETF tracks companies that have spun off within the past 30 months. The ETF has returned 379% since March 2009, market bottom, compared to the SPDR S&P 500 (SPY), which returned 213% over the same period.