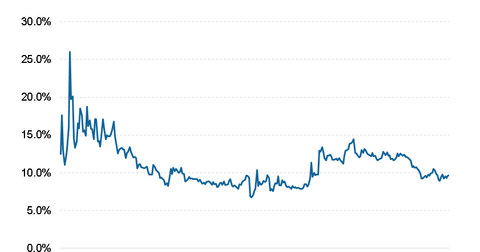 Use Navios Partners or Guggenheim Shipping ETF for lower volatility
By Katie Dale

Updated
Distribution policy
As a limited partnership, Navios Maritime Partners (NMM) tries to keep a stable dividend. This means Navios Maritime Partner is valued based on dividend yield. Navios Maritime Partner's (NMM) stable dividend per share is a key reason why the company has outperformed Diana Shipping Inc. (DSX), DryShips Inc. (DRYS), Navios Maritime Holdings Inc. (NM), and Guggenheim Shipping ETF (SEA).
Dividend yield
Article continues below advertisement
Over the last few years, Navios Maritime Partners's dividend yield has averaged around 11.0%. But notice that dividend yield has fluctuated quite significantly in the past. In 2008, Navios Maritime Partners' dividend yield stood at ~15%, which fell to ~8.0% as global markets recovered. Thoughout 2012-2013, dividend yield rose, as the market grew cautious, questioning whether the company would be able to sustain its dividends over the next few years, as its contracts roll over and the dry bulk shipping market slumps into weakness. As sentiment and fundamentals improved, starting late 2013, dividend yield has fallen.
Navios Partners' historical trend suggests the company's share price is still subject to market sentiment and investors' expectation of the dry bulk shipping industry–regardless of whether they are correct or not. Still, Navios Partners remains less volatile compared to its peers.
Lower beta
Beta is one way to measure how much would Navios be subject to market movement. Beta is defined as a measure of the volatility, or systematic risk, of a security or a portfolio in comparison to the market as a whole. Beta is a number that tells investors how much would respective companies be affected, if the market (the S&P 500) falls or rises by a certain percentage over a given period.
Navios Maritime Partners L.P. (NMM) records beta of 1.35 compared to companies like DryShips Inc. (2.49), Diana Shipping Inc. (1.45), Navios Maritime Holdings Inc. (2.01), and Safe Bulkers, Inc. (1.61). This means if the market moves 1.0%, the industry will likely change 1.35% over the same period. Meanwhile, Guggenheim Shipping ETF (SEA) has recorded beta of 1.37, according to Google. Note that beta is backward looking, and can change depending on a company's strategy and capital structure (the combination of debt and equity used to fund the business). But those who cannot tolerate volatility may want to choose companies with lower betas.