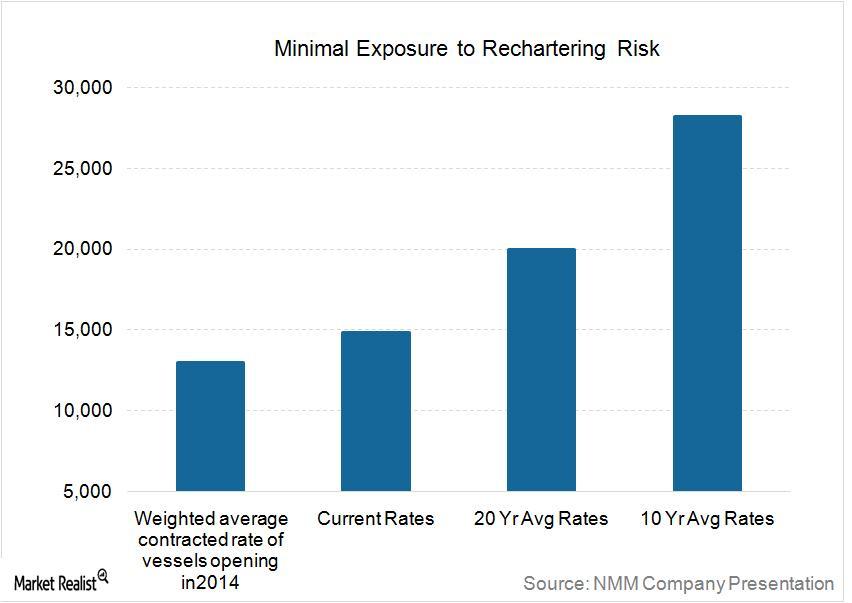 Why can Navios Partners give out higher distributions?
NMM market exposure
Time charter rate is a key driver for operating cash flow or surplus, which in turn affects distributions. As noted earlier, while Navios Maritime Partners (NMM) is less sensitive to shipping cycles because of its longer-term contracts and staged expirations, it's still subject to market rates when contracts roll over. For 2014, there are only 14.9% or 1,624 open days, while per day weighted average contracted rate of vessels in 2014 is $12,945. For 2015, open days are estimated at 1,190.
Below historic average rates
Article continues below advertisement
As the chart above shows, current per day rates stand at $14,796, while the 10-year and 20-year average rates are higher. Since reversion to the mean is the norm in the shipping industry, and current rates are above the weighted average contract rate of vessels that will roll off in 2014, Navios Maritime Partners' operating income can increase over the next few years–subject to market conditions.
Out of the eight Capesize ships of Navios, seven of them are locked in long-term fixed-rate contacts that don't expire until September 2015. Meanwhile, the eighth Capesize is up for expiry in this year and is also locked at the cheapest rate out of all. So, except for marginal indirect benefit from Capesize rates rising and causing the rates for smaller Panamax ships to rise through a domino effect, there is no other advantage for Navios.
However, the trickledown effect of a strong boom in Capesize would also support Panamax rates, and in turn, benefit Navios Partners, DryShips Inc. (DRYS), Diana Shipping Inc. (DSX), Safe Bulkers, Inc. (SB), and Guggenheim Shipping ETF (SEA). Also, if cargo shipments would be split into two Panamax orders instead of one Capsezie it would benefit the companies. Lastly, Panamax demand, rather than Capesize demand, is the single biggest factor affecting the performance of these companies. Investors should keep a close watch on the Panamax rates.