Must-know: A guide to Atlas Air's valuation and public comps
By Stilian Morrison

Mar. 20 2014, Updated 5:00 p.m. ET
Valuation overview
My intimation of the investment story and underlying steps to re-rating value assume the recovery takes some time, on the order of one to two years. I value the business on DCF, sum-of-the-parts, and replacement value bases consistent with current market and industry comparable data. I was unable to dig up many pure-play or "close-fit" ACMI public comps, with the exception perhaps of ATSG. In general, the comp set mainly comprises dry lessors and freight forwarders, the former of which are still a smaller component of business and the latter of which are Atlas' primary customer base. I used my best judgment in taking applying discounts to these multiples for developing a sum-of-the-parts analysis. One further caveat is that the business is trading at 0.6x tangible book value, which by all accounts seems rather punitive even for current leverage levels (liquidity is robust and there is no immediate risk to the underlying credit).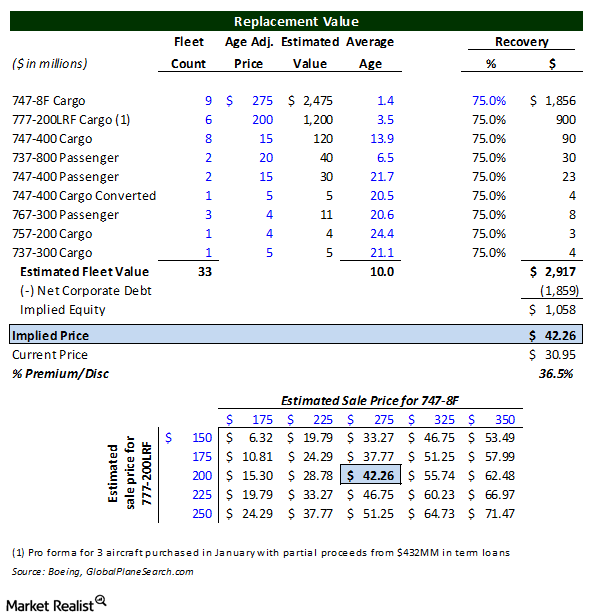 The Market Realist Take
Article continues below advertisement
The company's operating results during the fourth quarter were supported by the investments made to strengthen and diversify its business mix, including its 747-8 freighters in ACMI, the addition of 777 freighters with predictable long-term revenue and earnings streams in Dry Leasing, Atlas Air's expanding 767 service, growing CMI operations within ACMI, VIP and other passenger charters, and ongoing continuous improvement initiatives.
Morgan Stanley analysts last month downgraded Atlas Air, noting, "100% of Atlas Air Worldwide fleet is cargo aircraft of which Atlas Air Worldwide is almost entirely 747F exposed. We expect the 747 to under perform other cargo assets as the 777 increasingly replaces the 747 as the flagship."
Cowen's analysts echoed the same thoughts, saying, "Many shippers now prefer the B777 to the -8F as the -8F is a four engine aircraft, which burns more fuel than the B777. With the freight market still somewhat muted, the -8Fs will likely no longer be an option for many shippers as the companies are in capacity reduction mode."
Among the few pure-play or "close-fit" ACMI public comps, Air Transport Services Group (ATSG) is Atlas' closest peer. ATSG reported a decline in its ACMI Services revenue due to operation of fewer international cargo planes for its customers, including the U.S. military, as well as fewer ad hoc charters. In general, Atlas' business relates mainly to dry lessors like AerCap (AER), Air Lease Corp. (AL), Aircastle (AYR), and freight forwarders such as FedEx (FDX), United Parcel Service (UPS), and UTi Worldwide (UTIW). The former still are a smaller component of the business, and the latter are Atlas' primary customer base.
AerCap's acquisition of International Lease Finance Corp. last year prompted industry experts to conclude that the aircraft leasing industry will see further consolidation. Air Lease, which leases commercial jet transport aircraft, also said on its earnings call that over the past few years, the industry has witnessed an emergence of agent-based lessors, acquisitions of leasing franchises, and consolidations. Aircastle said that air cargo market remains weak, with a modest improvement in demand during the past year. But oversupply remains the biggest issue, and it will take a while to work through the supply of available aircraft. Freight forwarder UPS said its fourth quarter results were negatively impacted by excess operating costs due to significantly higher-than-predicted volume and inclement weather in the U.S. Both UPS and FDX have announced increases to freight rates despite international customers moving towards cheaper shipping services.