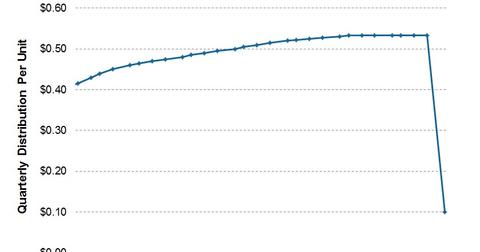 Why did Boardwalk Pipeline Partners cut its distribution?
By Ingrid Pan

Updated
A drastic distribution cut
As we've seen, Boardwalk Pipeline Partners drastically cut its distribution, which caused the stock price to fall sharply.
To give some brief context, Boardwalk Pipeline Partners is a master limited partnership, a special type of entity exempt from corporate taxes. Because MLPs don't pay corporate-level taxes, they're valued at a higher multiple on their before-tax cash flows or earnings power, which also helps lower the cost of capital for these entities. However, not every company is able to structure itself as an MLP. Master limited partnerships must meet certain requirements, such as operating in certain industries (including energy) and distributing a certain minimum amount of cash flow out to unitholders.
Article continues below advertisement
MLPs generally determine the amount of cash they'll pay out to unitholders based on the amount of distributable cash flow available. Generally, distributable cash flow represents the cash generated from normal operations less maintenance capital expenditures (cash used to maintain the current assets), but not including cash used for growth projects. Based on the cash available for distribution every quarter, the board will determine what it feels is an appropriate distribution to unitholders. The ratio of distributable cash flow to cash distributed is called the "distribution coverage ratio." Most MLPs aim for a distribution coverage ratio of somewhere between 1.0 and 1.5x. This can vary depending on how stable the company's cash flows are, with higher coverage preferred by companies with more volatile cash flows and lower coverage by companies with stabler cash flows, generally speaking.
Circling back to BWP, the company has suffered while most of its peers have benefitted from the natural gas production boom of the past few years. This is due to the specific composition of Boardwalk Pipeline's assets. BWP's assets transport natural gas, and the rates it can charge for transportation are influenced heavily by basis differentials—the difference in natural gas price between various areas.
Boardwalk summarizes the situation in its latest 10-K filing:
"Basis differentials, generally the difference in the price of natural gas at receipt and delivery points across our natural gas pipeline system, influence how much customers are willing to pay to transport gas between those points. Basis differentials can be affected by, among other things, the availability and supply of natural gas, the proximity of supply areas to end use markets, competition from other pipelines, including pipelines under development, available transportation and storage capacity, storage inventories, regulatory developments, weather and general market demand in markets served by our pipeline systems. New sources of natural gas continue to be identified and developed in the U.S., including the Marcellus and the Utica shale plays which are closer to the traditional high value markets we serve, than the supply basins connected to our facilities."
Read on to the following parts of this series to read about other factors affecting BWP's earnings.