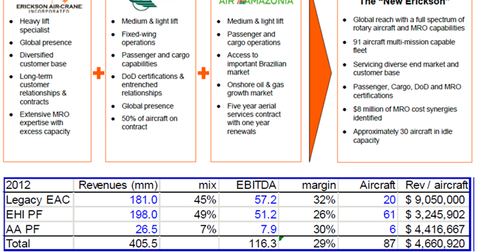 Why an EHI turnaround can synergize Erickson Air Crane revenues
By Samuel Madden, CFA

Updated
New deal    
In 2009, Erickson Air Crane sold to ZM Private Equity (also known as Centre Lane Partners) and hired a new CEO. In April 2012, EAC went public, though Centre Lane continues to own ~60% of the equity. In order to diversify away from its seasonal (summer fire season) and somewhat cyclical (timber harvesting) business, EAC acquired EHI in a distressed sale (an air transport provider, mostly defense-related cargo and personnel) and AA as a carve-out (the in-house aerial logistics provider of HRT, one of the largest Brazilian oil exploration firms). Both these companies were purchased for 4 – 5x EBITDA.
Article continues below advertisement
The combined end markets include the USA Department of Defense (43%, 30% Afghanistan), firefighting (19%), oil and gas (15%), timber harvesting (7%), crewing (4%), construction (3%), commercial (2%), and MRO (7%). North America represents 34% of revenue, followed by Afghanistan (30%), South America (15%), Asia Pacific (10%), Europe (10%), and Africa (1%). In 2013, the company is guiding to a combined $390 million in revenue and $107 million in EBITDA (27% margins).
The opportunity
The unappreciated opportunity for the "new EAC" is its ability to increase utilization and decrease penalties at the EHI business. EHI was the helicopter operating subsidiary of Evergreen International Aviation, a distressed aviation services company. Due to financial challenges, the parent company was sweeping cash from EHI to pay its creditors and maintain overall operations. The EHI subsidiary was starved of capital investment so 30 of its 60 aircraft remained idle (50% utilization). Plus, EHI's "operational readiness" declined to 85%, meaning helicopters were not available for customers' routes. The lack of inventory has led to substantial customer penalties. In 2012, EHI incurred $17 million in revenue penalties that flow entirely to the bottom line.
Put another way, in 2012, the Legacy EAC business generated ~$9 million per aircraft, while EHI only generated ~$3 million per aircraft. Although there are differences in project types and pricing, it's clear that EHI's fleet has underperformed.
Article continues below advertisement
Under new ownership and capital investment, EAC will be able to redeploy EHI aircraft more efficiently across the customer portfolio (that is, cross-selling and optimizing aircraft to mission). If management is able to increase fleet utilization from 50% to 80% (management guidance) and decrease revenue contract penalties from $17 million to $2.5 million (management guidance), EHI EBITDA should increase ~$25 million to $76 million, effectively lowering the purchase price of EHI to 3.3x. (EAC purchased EHI for total consideration of $250 million (cash + debt + converts) off 2012 adjusted EBITDA of $51.2 million, implying at 4.9x valuation.) I discounted the rev-to-utilization factor by 50% and projected incremental margins below corporate average (17.5%) because management has noted that the currently idle planes are generally smaller and less profitable than the existing fleet.
In addition to revenue synergies from the EHI turnaround, there are also cost synergies from increasing scale. EAC has an internal MRO business (maintenance, repair, and overhaul = a helicopter body shop) that is running at less than 50% capacity utilization. By insourcing the repair operations for EHI and AA's fleets, EAC estimates it can save $8 million annually (management guidance). Other cost synergies (not included in projected financials) include combined marketing and SG&A initiatives and procurement benefits from increased scale.
The Market Realist Take
Article continues below advertisement
Third-quarter government segment revenues increased 61%, to $92.9 million, compared to $57.6 million in the prior year's third quarter, due to the Evergreen Helicopters acquisition. Commercial segment revenues increased 47%, to $27.3 million, compared to $18.6 million in the prior year's third quarter due to higher revenue in the manufacturing or MRO business as well as an increase in infrastructure construction in North and South America, which includes the Air Amazonia acquisition.
The company said Department of Defense (DOD) contract penalties were about $2 million higher than forecasted in the quarter. When Erickson acquired Evergreen Helicopters business, the company faced a critical shortage of spare parts. This led to longer lead times, especially as these were required to be shifted into Afghanistan and other remote locations, and often required the approval of the U.S. government. The company believes it has resolved these logistical challenges, and expects aircraft availability to improve and revenue penalties to see a decrease in the fourth quarter.
The 2013 Year End Review and Forecast report from the Aerospace Industries Association (AIA) said that as the economy continues to rise out of economic turmoil, the U.S. Maintenance, Repair, and Overhaul (or MRO) sector continues to expand by double digits as operators explore ways to maintain equipment and extend the life of their investments. By 2022, the global MRO market will nearly double, to $84.7 billion dollars, driven by airframe and heavy engine maintenance. The U.S. represents 32.6% of the global market, expending $16.6 billion, followed by Western Europe at roughly $12 billion.