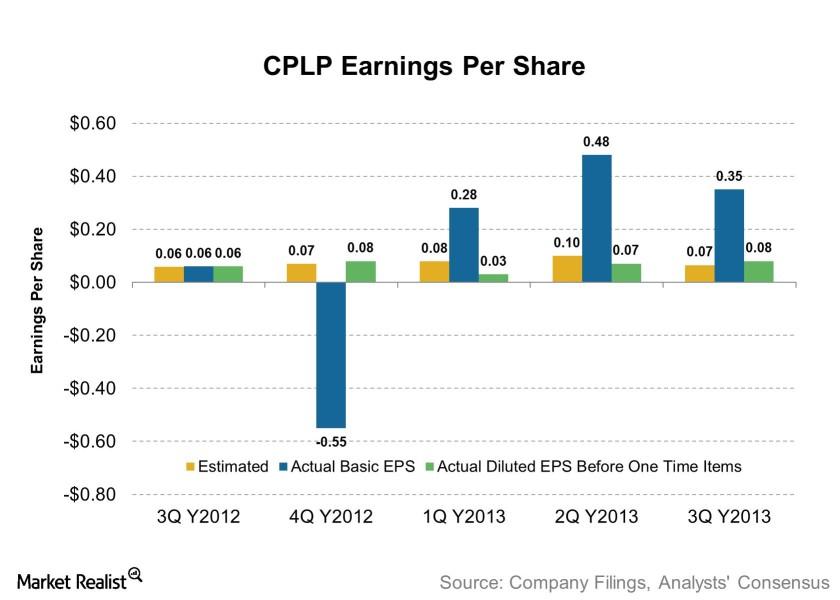 Why Capital Product Partners didn't rally after beating estimates 400%
Beating estimates
Let's begin with earnings since that's often what analysts and investors look at. For the third quarter of 2013, which was released on October 31 in the morning, CPLP reported basic EPS of $0.35 per share, which was five times more than the estimate of $0.07 per share. Basic EPS of $0.35 a share was below last quarter's $0.48 a share, but significantly above the third quarter 2012's $0.06 a share. Because the shipping industry is quite seasonal, analysts often look at year-over-year growth rather than a quarter-over-quarter basis.
Bargain purchase gain
Article continues below advertisement
Despite beating analysts' consensus of $0.07 a share, CPLP only rose about 2% on the day. Normally, the market would be cheering earnings beat by 400%, but it didn't. This was because the reported EPS included a one-time bargain purchase gain. This gain reflects the difference between the actual price that CPLP paid Hyundai for three container ships and the valuable contracts that came with it.
Why was it on bargain?
Investors are often told to buy when investments are cheap. The same concept applies to the shipping industry, since it's so cyclical that shipping companies can reap large profits if they can purchase assets when vessel prices are so cheap before shipping rates start to rally. But it's always a good question to ask why the selling party would want to sell something at a discount—rather than at a fair value—because there could be good reasons why the asset isn't worth much. Perhaps they know something you don't.
Hyundai saddled with debt
Article continues below advertisement
Turns out, Hyundai Merchant Marine, one of the largest container ship owners in the world, is selling some of its assets in order to meet debt obligations this year. Since the container shipping industry is so depressed, banks and investors don't want to lend money to the shipping giant. It was last reported that Hyundai's debt-to-equity ratio, which is a measure of leverage and riskiness, stood at 895%—much higher than CPLP's 75%, Tsakos Energy Navigation Ltd.'s (TNP) 148%, Scorpio Tankers Ltd.'s (STNG) 12.50%, and Navios Maritime Acquisition Corp.'s (NNA) 232%.
Accounting for a one-time gain
Because the $24.8 million gain from bargain purchase is only a one-time event and there's no guarantee that the management can repeat it again and again every year, the $24.8 million is added straight to shareholders' or market value of the company. Before the earnings release, CPLP traded at $9.10 a share or $980 million. By the end of the day, the company was worth 3% more at $1,011 million, which represents a gain of ~$30 million—slightly higher than $24.8 million gain.
Beating estimates after a one-time gain
Since one-time events are often non-recurring, and investors must be careful to distinguish whether a gain or expense is actually just one-time, analysts often focus on the diluted EPS before one-time items and make estimates excluding one–time events. On a diluted basis and excluding the one-time gain, CPLP still beat estimates. Diluted EPS factors in the total number of shares if bond holders and managers were to exercise their option to purchase more share at a stated price, which lowers earnings for each share of the company. Continue on in this series to see why CPLP beat estimates.