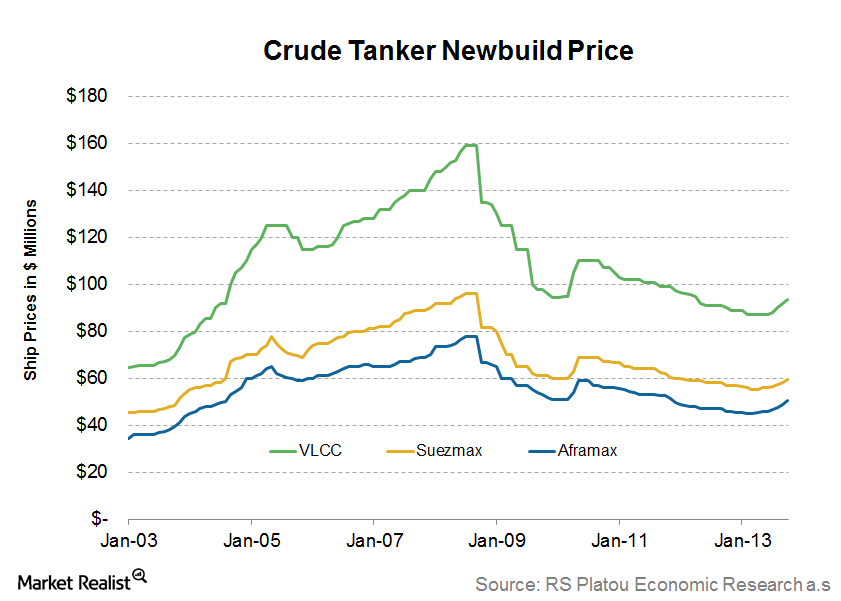 Newbuild tanker prices rose, but you should still use caution
By Xun Yao Chen

Dec. 4 2020, Updated 10:50 a.m. ET
Tanker newbuild prices
To investors, the prices of newbuilds is another tool that will provide some insights to what managers are thinking and what the long-term future will be for the shipping industry. When newbuild prices rise, they imply that companies are increasing orders for new ships.
Shipping companies tend to take this action only if they speculate future shipping rates (which can increase or stay the same from the current level) to be profitable enough to generate good returns from the new ships. Conversely, if future rates are expected to be unprofitable, then demand fpr new ships will fall, leading to lower ship prices.
Newbuild prices rise
Article continues below advertisement
In October, the newbuild price for VLCCs (very large crude carriers) was negotiated at $93.5 million, according to a leading international off-shore ship broker and investment bank. This was an increase of $1.5 million from September. These VLCCs are used to haul crude oil primarily from Africa or the Arabian Gulf to major countries such as Japan, the United States, European countries, and China.
Caution toward the recent rise
This is the fourth consecutive increase we've seen, suggesting shipping prices could be bid up because of management's optimism about the future of crude tankers. However, we would be cautious, because the recent increase in newbuild prices could reflect limited capacity at lower costs and more efficient shipyards. Product tanker and dry bulk shipping companies, for example, have been placing many orders for new ships since the start of this year, which are expected to be delivered in 2015 and 2016. If lower-cost shipyards are running out of capacity to build tankers, then tanker companies will have to go to a more expensive producer or sign a contract with the lower-cost producer at a higher price as the builder increases capacity by raising hours or adding another building area.
Don't just rely on one indicator
October's increase is generally positive for the long-term prospects of tanker stocks like Frontline ltd. (FRO), Nordic American Tanker Ltd. (NAT), Teekay Tankers Ltd. (TNK), and Tsakos Energy Navigation Ltd. (TNP). But as always, it's best to combine this indicator with other sets of indicators like the ones shown earlier to get a fuller picture of what's happening in the tanker and shipping industry. Regardless of whether newbuild prices are rising because of better crude tanker outlook, this should benefit the Guggenheim Shipping ETF (SEA).