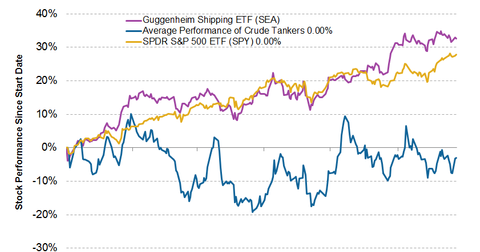 Must-know: Why analysts predict oil tanker stock underperformance
By Xun Yao Chen

Updated
Shipping and the U.S. market
A constant stream of money printing by the Fed and higher earnings have pushed the S&P 500 and major indexes into new highs this year. The Guggenheim Shipping ETF (SEA), which invests in major shipping companies like Maersk, has also performed well, outperforming the S&P 500.

Underperforming
Yet crude tanker stocks have underperformed the Guggenheim Shipping ETF (SEA) and the SPDR S&P 500 ETF (SPY) over the past 12 months. The performance of crude tankers shown above comprises Frontline Ltd. (FRO), Nordic American Tanker Ltd. (NAT), Tsakos Energy Navigation Ltd. (TNP), and Teekay Tankers Ltd. (TNK).
Despite the market putting in one of the best performances in years, the underperformance of crude tanker stocks reflects poor industry fundamentals. While the global economy appears to be picking up momentum and countries like Europe and China are doing better than last year, they haven't helped.
Indicators covered this week
Here's a summary of the key indicators and their implications.
Ship orders may be stabilizing: +
Scrapping activity elevated and rising: –
Shipping rates depressed but are stabilizing: neutral to –
China's manufacturing PMI: neutral to +
Newbuild prices are rising: +
Five-year-old vessels are mixed: neutral to –
Time premium data is poor: –
Our prior series
Article continues below advertisement
In last week's series, we saw crude imports in China continue to climb. However, this was negatively affected by inventory restocking activity in 2012. So on a year-over-year basis, crude tanker rates are negatively affected. Car sales in China remain solid, which is a bright spot. But U.S. export of product oil continues to rise, which likely reflects negative fundamentals for crude tankers.
Outlook for crude tankers
Higher orderbook for VLCCs and newbuild prices are reasons to be optimistic about the future. But for now, the average crude tanker stock will likely underperform the overall market and the Guggenheim Shipping ETF (SEA) over the short to medium term, despite showing signs of possible bottom.
For more information on crude tankers, follow the previous series, Why managers are more optimistic long-term about crude tankers.