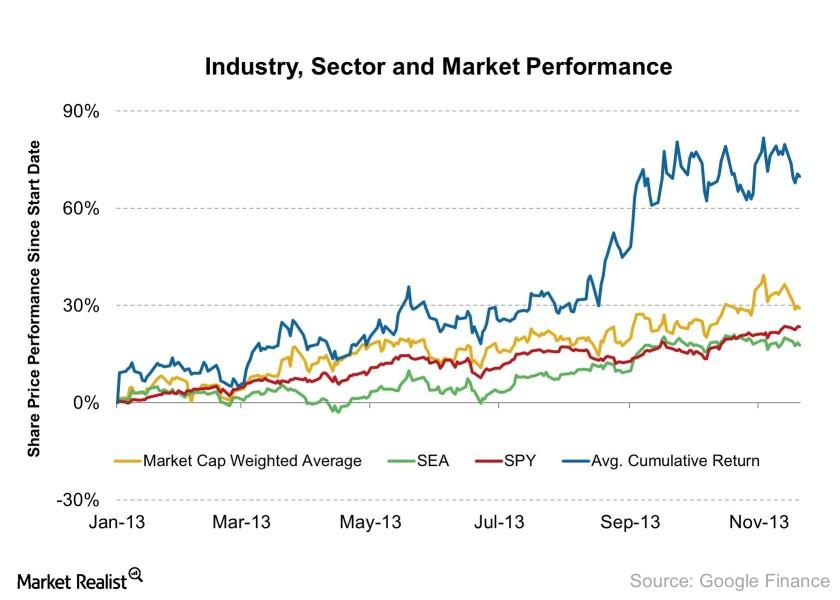 An ETF that invests in Soros's dry bulk shipping experiment
By Xun Yao Chen

Nov. 20 2020, Updated 3:16 p.m. ET
 The Guggenheim Shipping ETF
Investors seeking exposure to dry bulk shipping who don't want to buy six companies like Soros did can use the Guggenheim Shipping ETF (SEA). The Guggenheim Shipping ETF seeks investment results that correspond closely to the performance of an equity index called the Dow Jones Global Shipping Index. The ETF pays a dividend yield of 2.12% with an expense ratio of 0.65%.
Key dry bulk holdings
Article continues below advertisement
Some notable companies that operate a dry bulk shipping business include Nippon Yusen Kaisha, Kawasaki Kisen Kaisha Ltd., Navios Maritime Partners LP (NMM), Pacific Basin Shipping Ltd., D/S Norden, Navios Maritime Holdings Inc. (NM), and Knightsbridge Tankers Ltd. (VLCCF). Note that while VLCCF used to be a tanker company, it has sold off its crude tanker ships and now only operates Capesize vessels.
Less volatility
The Guggenheim Shipping ETF (SEA) may be a better choice for investors who seek less volatility than investing in five major companies like Diana Shipping Inc. (DSX), DryShips Inc. (DRYS), Safe Bulkers Inc. (SB), NMM, and NM. The standard deviation for a daily average return in a market cap–weighted investment in these five companies is 1.53%, while the Guggenheim Shipping ETF's (SEA) is much lower, at 0.97%.
But know that the SEA has lagged since the start of the year, as it's also invested in other shipping businesses like containerships and tankers.
Higher volatility, higher return
An equal investment in those five major companies would generate volatility of 2.07%, but performance is much higher so far, at 70%. The equal investment (average cumulative return) chart is much higher than the rest because investors are more exposed to smaller-cap companies, which tend to outperform when things go well in an industry that generally benefits from economies of scale or high operating leverage.
Higher volatility doesn't always lead to higher returns, but it seems like that idea holds so far, since the industry's outlook has been improving.
To learn more about shipping companies drivers, visit Market Realist's Marine Shipping page.