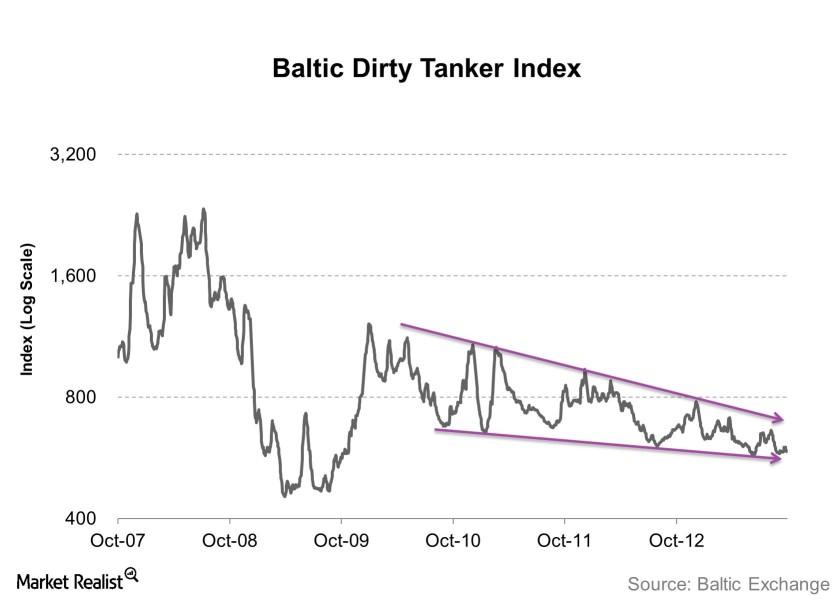 Will the Baltic Dirty Tanker Index show signs of improvement?
By Xun Yao Chen

Oct. 17 2013, Updated 5:48 p.m. ET
Why follow the Baltic Dirty Tanker Index?
The single most important indicator that affects tanker companies' performance is shipping rates. One widely followed index that tracks the price of shipping crude oil (unrefined oil) across the ocean for representative routes is the Baltic Dirty Tanker Index. Compiled daily by the Baltic Exchange for rates settled in the spot market on a time charter equivalent basis, it's widely considered a leading indicator due to its timeliness.
Rates remain low amid pressure
On October 11, the Baltic Dirty Tanker Index stood at 586. Overall, the tanker index remains in a downtrend since late 2009, making new lows on every bounce and trough. But it has been trying to find support on the lower range as ship companies scrap vessels. It's a slow bleed.
The index was climbing higher in July, as demand rose in the United States and shipments to China increased. Fewer new ship deliveries and scrapping activity also helped. However, it was nonetheless a short-term bounce and rates fell in August.
Waiting for the downtrend to reverse
The lower bound of the chart above reflects rates the industry tries to support. As rates come down, companies will scrap ships, go bankrupt, cancel new deliveries, or delay deliveries. So, as time passes, the industry comprises a fleet portfolio that can do business at cheaper rates.
Article continues below advertisement
The upper bound is the level that companies will try to take advantage of by receiving new ships. A breakout of the downtrend will mean there aren't enough new ships to keep rates low anymore. If that happens, expect tanker stocks to rise in share prices—similar to what we've seen for dry bulk stocks.
Could the worst be over?
On a year-over-year basis, the index appears to be showing some positive development—rising from negative to positive territory in August. While it fell recently, it has stayed above figures seen before this summer. This reflects a smaller increase in excess supply growth on a year-to-year basis.
Something is brewing
With capacity growth coming down sharply, the worst for the crude tankers may be over. While crude shipping stocks could still face headwinds in the short term, something appears to be brewing. If stocks like Frontline Ltd. (FRO), Nordic American Tanker Ltd. (NAT), Teekay Tankers Ltd. (TNK), and Ship Finance International (SFL) can survive in the short to medium term, investors may see unexpectedly high returns.
The Guggenheim Shipping ETF (SEA) is also influenced by fundamentals within the crude tanker industry, although it does invest in other shipping companies like product tankers, dry bulk, LNG (liquefied natural gas), and shuttle tankers—which have all done well as a whole.