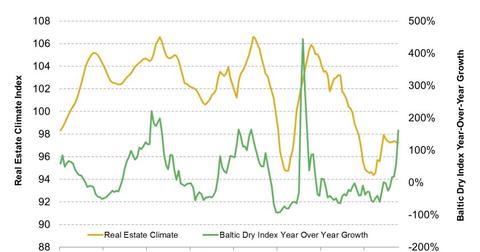 Why the real estate climate index affects the Baltic Dry Index
By Xun Yao Chen

Updated
Why is the real estate climate index important?
China's real estate activity has a significant influence on dry bulk shippers, as it uses a lot of steel. One indicator that reflects this activity is the Real Estate Climate Index. The National Bureau of Statistics developed the index to capture the trends and situation in the property market using eight indicators related to land, capital, and sales. When the real estate climate rises, analysts generally consider it positive for shipping rates, whereas falling figures point to a possible negative.
Real estate climate falls a little, but nothing major
In September 2013, China's real estate climate fell slightly, to 97.25 from 97.29 in August. According to the National Bureau of Statistics, figures above 100 show prosperity, whereas figures below 100 mark depression. Since 2000, the index has averaged ~102.
Climate index mirrors economic activity and shipping rates
Article continues below advertisement
Movements in the real estate climate index closely mirror China's economic growth, the housing market, and demand for iron ore and shipping rates. From 2000 to 2007, housing prices rose an average of 30% based on the housing index. During this period, 2005 was particularly weak compared to other years, which also reflects in the China Real Estate Climate chart above as a little valley and which has negatively impacted year-over-year growth in shipping rates.
When economic growth began to deteriorate in 2008, the climate index also showed signs of weakness. The index fell to 102 (near its 2005 lows) and eventually broke lower, reflecting the sharp slowdown in China's business growth while other countries slumped into recession. As a result, shipping rates also collapsed.
The difference between the Baltic Dry and Real Estate Climate indexes
Note that while the real estate climate index and year-over-year growth in the Baltic Dry Index highly correlate to each other, they do differ a bit. For example, in 2010, year-over-year growth in the Baltic Dry Index fell harder and faster than it did for the Real Estate Climate Index. The difference reflects excess deliveries of new ships, which had negatively affected shipping rates despite growth in commodity demand and global trade.
The below-average up-trending climate index is positive for dry bulks
A below-average Real Estate Climate Index means economic growth isn't as robust. But it also means the government will likely support the sector rather than tighten stimulus or policies. As long as the Real Estate Climate Index doesn't fall sharply, consider it a positive for dry bulk shippers. Plus, as new ship deliveries continue to fall, we could see shipping rates rise faster than the Real Estate Climate Index. This case would be long-term positive for dry bulk shippers like DryShips Inc. (DRYS), Diana Shipping Inc. (DSX), Safe Bulkers Inc. (SB), Navios Maritime Partners LP (NMM), and Navios Maritime Holdings Inc. (NM).