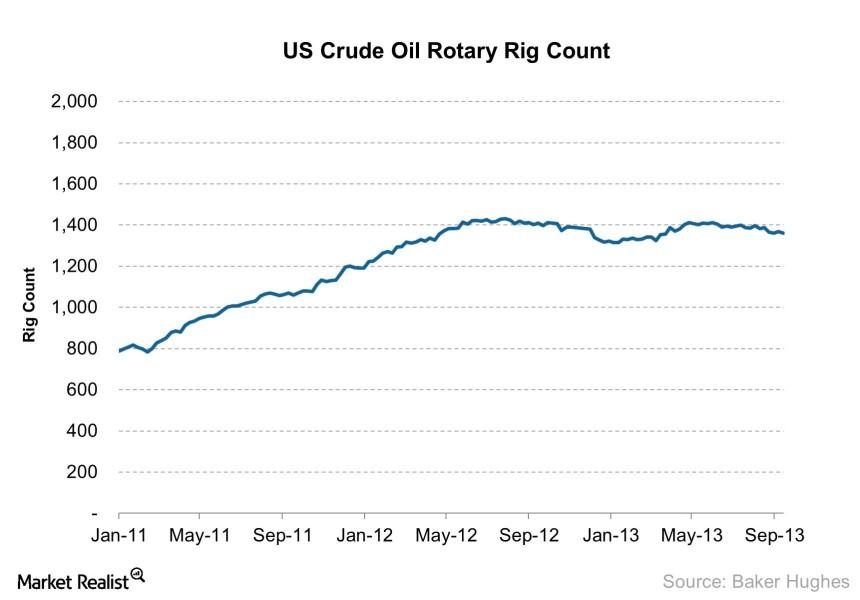 Why the flat oil rig count won't hinder product tanker demand
By Xun Yao Chen

Nov. 20 2020, Updated 12:26 p.m. ET
US rotatory rig count: The forefront of future oil production
The US Crude Oil Rotary Rig Count is a valuable indicator that shows how much drilling activity is occurring in the United States, tracking the number of rotating drills that are drilling into the Earth's crust in search of oil or developing oil wells. The indicator is published by Baker Hughes—one of the largest oilfield service companies in the world that provide products and services for drilling, formation evaluation, completion, production, and reservoir consulting. As a result, its indicators reflect the forefront of the location of future oil production, which can affect demand for product tankers.
Oil rig count flat but well count is up
Article continues below advertisement
On September 27, the number of active rotatory rigs in the United States stood at 1,362, dropping from 1,369 the a week earlier. Even though oil prices, which reflect the demand and supply and oil, remained above $100 per barrel throughout the third quarter of 2013, the rig count has fallen ~4% since it peaked in mid-June at 1,413.
While the falling rig count appears negative at first glance, the decline was driven by more efficient drilling, according to a statement from Halliburton. The company noted, "In spite of a relatively flat sequential U.S. rig count, drilling efficiencies in the trend towards multi-well pads are driving a more robust well count." (See Must-know: Oil prices are up but oil rigs are down since mid-year.)
The impact of a higher well count on output and tankers
According to Baker Hughes, well count is an extension of the rotary rig count and tracks the number of oil or gas wells that are consumers of oil service and suppliers. So a more robust well count in the United States would mean greater output in the months ahead. While more useful, the well count is only published on a quarterly basis, which makes it better-suited for drawing long-term trends rather than short-term developments.
Because US law prohibits the export of domestically produced crude oil except for special circumstances, in order to preserve domestic oil and discourage oil imports by keeping domestic supply within the country, oil companies have to refine this oil in the United States and export it via product tankers if it's not consumed domestically.
Higher demand for product tankers bodes positively for tanker stocks such as Capital Product Partners LP (CPLP), Tsakos Energy Navigation Ltd. (TNP), Scorpio Tankers Ltd. (STNG), and Navios Maritime Acquisition Corp. (NNA) in the medium to long term. The Guggenheim Shipping ETF (SEA), which invests in CPLP aond TNP, as well as other large shipping companies like Maersk, will also benefit from an increase in demand for product tankers.