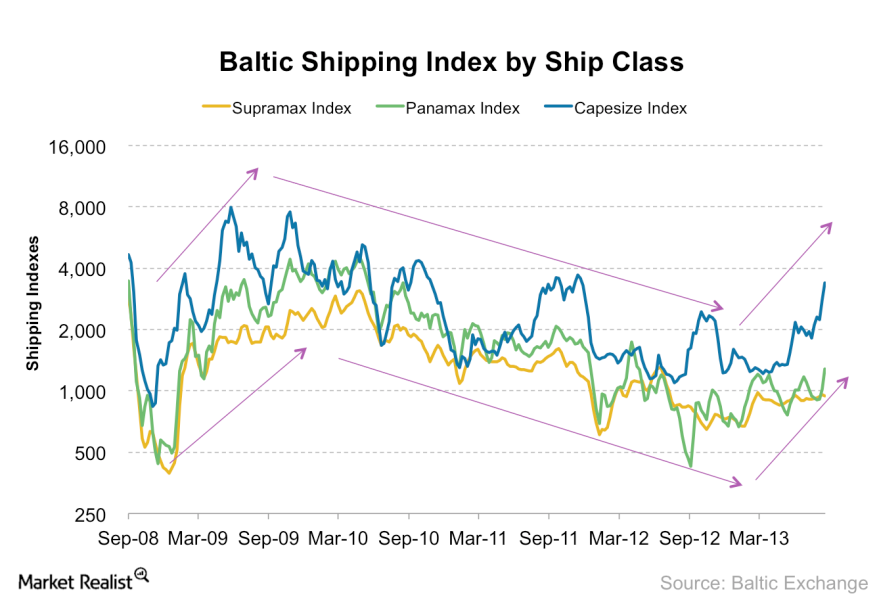 Shipping indexes rise, driving dry bulk shipping company shares
By Xun Yao Chen

Nov. 20 2020, Updated 3:26 p.m. ET
Baltic Dry Index rises
The Baltic Dry Index is running higher today (September 18) again, after some weakness last week. Rates for Capesize vessels have climbed $2,483 a day to $35,428, reaching into 2011's high territory. The Baltic Capesize Index, which tracks the price of shipping key dry bulks like iron ore and coal across water in the spot market, rose by 147 to 3,838. While Panamax and Supramax vessels have yet to break 2012's highs, they're heading in the right direction, with the Baltic Panamax Index rising 36 to 1,385 and the Baltic Supramax Index rising 8 to 942, according to information released on DryShips Inc. (DRYS)'s daily report.
Current trend
Article continues below advertisement
Dry bulk companies have been rallying recently on the back of higher iron ore shipments from Australia and Brazil, part of the larger shift in the global supply of iron ore. Major companies are expected to add significant capacity and output throughout the rest of this and next year. These significant increases in iron ore supply are expected to drive iron ore prices lower based on downward-sloping forward contracts and support Capesize rates. It's been a while since the dry bulk shipping index has had such as large impact on the share prices of shipping companies. This reflects the fact that the market wasn't really expecting such an increase.
Why do shipping rates matter?
The Baltic indexes often precede shipping analysts, money managers, and investors since they're the benchmark price of shipping dry bulks. When the index rises, it's often positive for the shares of companies like DryShips Inc. (DRYS), Diana Shipping Inc. (DSX), Navios Maritime Partners LP (NMM), Safe Bulkers Inc. (SB), and Navios Maritime Holdings Inc. (NM), because these companies' revenues depend much more on the industry's shipping rate. Higher rates, in turn, drive earnings and cash flows.
An interpretation of the recent action
We mentioned various factors in our weekly report and recent demand series that support higher (or high) Capesize rates. The market is somewhat cautious, with Fed tapering expected or happening, and the recent rise in Capesize rates will likely fall. But that isn't something to worry about since this isn't a bubble (not everyone is totally optimistic). This skepticism will push prices down from time to time—great for long-term investors. The recent developments are also just part of an improving trend for the shipping industry. But investors shouldn't expect shares to rocket higher than 50% to 100% immediately, since a large part of the move have occurred.
To learn more about current trends, read our recent weekly report, Dry bulk shipping stocks are down but prices to rise, and our demand series, Why China's industrial activity is important to dry bulk shippers.