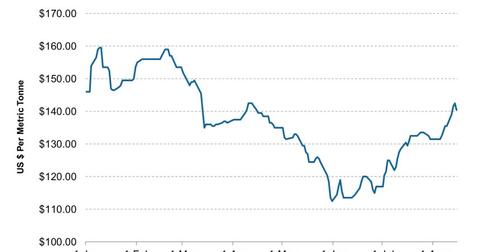 Rising steel and iron ore prices support dry bulk shipping firms
By Xun Yao Chen

Updated
The relationship between commodity prices and shipping rates
Commodity prices generally move together with shipping rates. When prices for materials such as steel, iron ore, coal, oil, and copper rise, it's often due to higher growth in demand than supply. This also means higher shipments, which have a positive effect on shipping rates. So, when commodity prices are rising, it's often an indication that shipping firms' fundamentals will benefit from higher rates. On the contrary, when prices fall, they often spell a negative for dry bulk shippers.
Steel prices on the rise (support at ~3,400 renminbi)
Article continues below advertisement
On July 31, domestic spot price for hot-rolled steel in China stood at 3,593 rmb (renminbi) per metric tonne. Prices have been rising since the end of May at 3,436 rmb—which was near the lows of 3,400 since the financial crisis. We also saw steel price hit the low in 2012, before the government-initiated stimulus programs to energize the economy. Since public steel companies play an important role in keeping citizens employed, that price level might be the support line that the government wants to maintain.
Factors affecting iron ore prices
Over the last few months, we've also seeing similar price actions in prices for imported iron ores. On August 19, imported iron ores at main ports in China stood at $139.5 per mt (metric tonne). Prices have risen since June, when they were close to $110 per mt. Prior to June, iron ore prices had been falling since making a high at $160 per mt in February.
At the start of the year, prices for iron ore and coal were high because of increased industrial activity in China driven by government stimulus in mid-2012. The wet season in Southern Hemisphere countries such as Brazil and Australia, which typically spans from December to March, also contributed to the higher prices. So while we saw high prices for iron ore, they didn't exactly help Capesize rates. (Capesize vessels are the largest shipping class, used primarily to haul iron ore and coal across the ocean.)
Article continues below advertisement
While the resumption of mining operations during the second quarter pushed prices down, higher ore shipments drove shipping rates higher. Commodity prices were also negatively affected by China's new government's tolerance for lower economic growth, on top of actions that were taken to cool the property market from overheating again around February. But as economic growth slowed to 7.5% in the second quarter, the government's target for this year, policymakers agreed to keep economic growth stable throughout the second half of the year by accelerating public projects. Higher July industrial activity and business sentiment in July, according to the country's PMI index, ticked up.
Forward commodity price and shipment relationship
With more mining capacity expected to come online out of major mining firms in Australia and Brazil, prices for iron ore are unlikely to increase much. But more shipments (and possibly lower iron ore prices) would be positive for shipping companies like DryShips Inc. (DRYS), Diana Shipping Inc. (DSX), Safe Bulkers Inc. (SB), Navios Maritime Partners LP (NMM), and Navios Maritime Holdings Inc. (NM) this year. The increase in prices we've seen since the end of June for steel and iron ore suggests healthy demand.